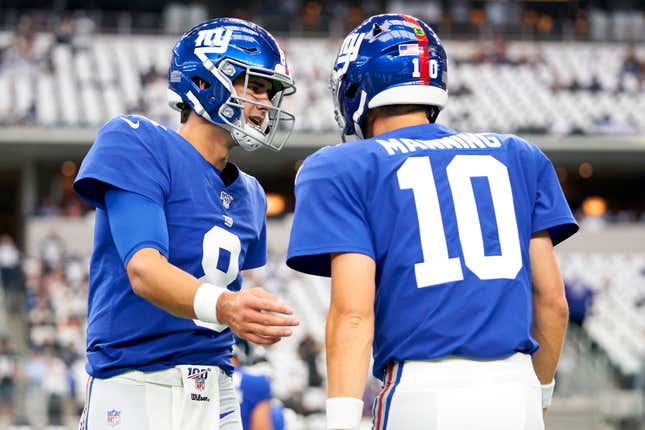 There's a clear ceiling on Daniel Jones as an NFL quarterback, and even though he hasn't bumped his head against it quite yet, that day is rapidly approaching under new coach Brian Daboll. Now, the Giants have to make a decision on whether to give Jones a contract this offseason, and New York fan favorite —and two-time Super Boel champ — Eli Manning thinks they should.

Eli Manning's worst moment from his rookie season
Manning talked Giants football with ESPN in between shilling for one of the millions of products he slaps his "aww-shucks" face on.
"I was proud of Daniel, the way he played, to learn another offense and pick it up. Just the way he played in the fourth quarter of a number of games and leading the team back to victory, which was awesome; that's what you want from your quarterback. To do it so quickly with the brand-new offense, the way they were able to compete, make it to the playoffs, win a playoff game, that is awesome.

"I hope he gets rewarded for that. I hope he is the quarterback for the Giants for a long time."
Look, New York is going to bring back Jones. It might not be the best idea — it might not even be a good idea — but team ownership and management are so thrilled by the turnaround that in no way are they going to start over.
Jones is going to get paid, and the real argument is how the organization should go about it.
Pay Jones now before the cost rises
If the Giants' thought process is that Jones is only going to get better, then they should rush to pay him what he's worth right now. And that is of a young player with one competent season out of his first four. It's a safe bet that any future receiving corps will be better than the one New York ran out there this season, and that includes if they run it back with the same guys next year.
Added chemistry with receivers, and his play caller, should only help Jones. That's why the team should try to sign him before there's more evidence that he's worth Kirk Cousins-type money. Speaking of Cousins, Remember what happened when Washington franchise tagged him? He ended up leaving for a huge deal from Minnesota, and the Commanders were left playing quarterback roulette (and they're still at the table). The salary cap is going up, but the market for quarterbacks isn't likely going to be reset by anyone in 2023's free agency class.
Other than Tom Brady, who's not getting a long-term deal, Jimmy Garoppolo is the next biggest QB on the market, and I doubt he's going to garner a huge number. It'll probably be in the range that Jones should get paid.
Additionally, Joe Burrow and Justin Herbert will be up for deals next offseason, and those contracts are going to melt ESPN for a couple of weeks. New York should desperately try to avoid a scenario where Jones gets the idea that he's worth as much as a real franchise guy. Sign him now at a moderate price because it'll look like a great deal in a year or two, and it'll make moving off of him easier if he regresses.
Saquon Barkley should be franchise tagged
For the record, I hate the franchise tag. It's a bullshit loophole that forces players to compete without a safety net and should be banned from all sports. Yet it's kind of perfect for a situation like Barkley's. While he finally looked like himself this season, there was a stretch when he didn't, and it's unclear if he's going to be full speed for all of 2023, or if it'll be another semi-consistent campaign.
The reports are that Barkley is being "realistic" about the negotiations, which is great news for the Giants. Paying a running back at all risks them ending up like the Cowboys and Ezekiel Elliott. We know they have short shelf lives, and the market for ball carriers is going in the opposite direction of QBs. Let Barkley prove his value, and if it merits a mega deal, cross that bridge when it comes — or don't.
I understand the current enthusiasm surrounding the Giants. They still only finished 9-7-1, and the last thing the team should do is hand out big contracts like Oprah in a giving mood.