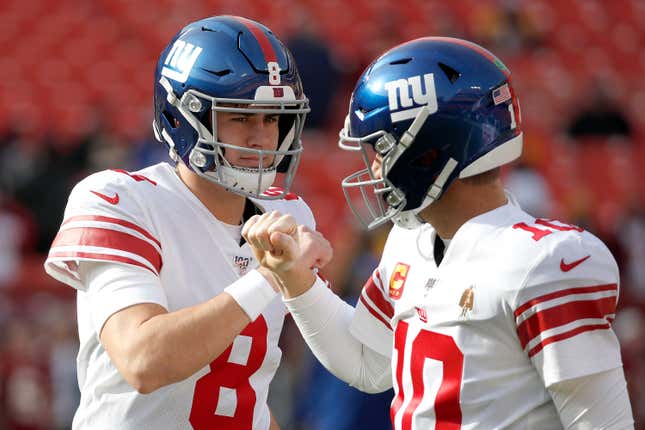 The New York Giants paid Daniel Jones his money, and no one feels particularly great about it other than the Maras and Jones. Well, probably Eli Manning, as well, considering the recent comments he made about his successor. It felt like a very quarterback club thing to do, like the way Trent Dilfer defends game managers, but I digress.
Eli Manning's worst moment from his rookie season
The funny thing is, if you look at the numbers, Daniel Jones was a better QB over his first four years than Manning. In 57 appearances — 55 starts — in his first four years, Manning accounted for nearly 11,600 total yards (most of them passing), 79 total touchdowns, and 76 total turnovers. In Jones' four years — 54 appearances, 53 of them starts — he has just over 13,300 yards total, 72 total TDs, and 56 turnovers.
The wins and losses favor Eli, who was 30-25 before year five, with a Super Bowl ring. Jones is 21-31-1, and the furthest he went was this season when he made it to the Divisional Round, losing to NFC East rival the Philadelphia Eagles. If we were to compare teammates in the pair's first four years, Manning has a leg up, and the advantage also is extended to him in the coaching realm.
If you look at the second contracts, Giants ownership did with Jones what they did with Manning, making each a top-six paid quarterback. The numbers and cap hits are screwy because you need an economics degree to run a football team, so bear that in mind. Regardless, one guy beat arguably the best team of all time, and the other went 1-4-1 in the division a year ago.
Giants' fans apprehensive despite the evidence
Nothing changes culture like winning, but this season was a one-off for Danny Dimes. Only the wildest of G-Men fanatics thought Brian Daboll was Bill Parcells reincarnate, and the beatdowns at the hands of the Philadelphia Eagles three separate times felt like someone fogged up the glass ceiling; a reminder of how inept the Giants have been since the tail end of Manning's time under center.
If you take away DJ's career production on the ground, his stats and Manning's are a push. There was never an Eli run package, but New York fans knew there was enough Manning in him to spot faulty coverages or at least take advantage of capable receivers.
Jones hasn't had more than 20 passing TDs since his rookie season, and pass catchers have come to New York and disappeared (Kenny Golladay), or left New York and been franchise-tagged (Evan Engram). The Giants haven't had a 1,000-yard receiver in Jones' four years as the starter, with Darius Slayton's 751 a couple of years ago coming the closest. Eli and Plaxico Burress had a couple of 1,000-plus connections and barely missed another in the same time window.
The issue for the Giants going into the offseason, though, is that even if there was an available No. 1 wide receiver in free agency or the draft, nobody has any idea what a go-to guy looks like for Jones.
A case for regression in New York
The NFC East benefitted from easy crossover opponents, drawing the NFC North and AFC South. Philly, Dallas, and, hell, even Washington got in on the action, and that makes me especially nervous for the division's prospects in 2023.
The Giants' only win of more than one score was against an Indianapolis club that was coached by an ESPN analyst. New York GM Joe Schoen said he wanted to bring back both Jones and Saquon Barkley, which is a no-brainer in my eyes because the threat of Barkley worries defenses so much that they forget about Jones' running ability.
Be that as it may, the game has evolved beyond a run-first ethos. Being physical is not the same as repeatedly pounding Brandon Jacobs into the line. The 2022 Giants finally looked like a modern offense after someone yanked the controls from Jason Garrett, and Daboll and crew still finished middle of the pack in points scored.
It's honestly really fucking hard to point to something tangible that New York did at an elite level other than protect the rock. Danny Spare Change finally kept the football off the turf and out of his opponent's hands. The $160 million man didn't beat himself because he got better and so did the situational play calling.
I don't want to be too cavalier about how difficult it is to find a serviceable QB in the NFL. However, the Coach of the Year has worked with the best ingredients, and delivered Michelin-star results. And while no one knows his signal caller like the guy calling his plays, I never saw a coordinator handle Eli like he was ground chuck.