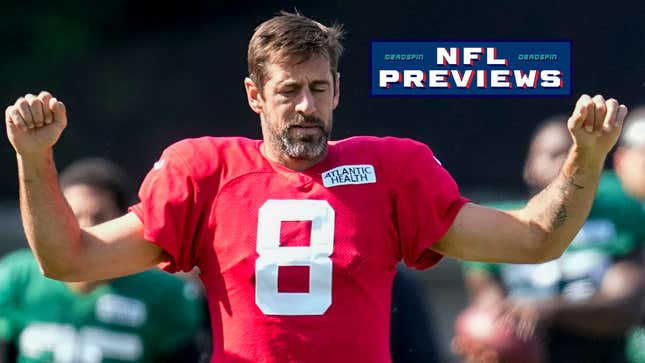 As Aaron Rodgers steps into the Showtime spotlight of the Big Apple, he will have to do his best Magic Johnson impersonation to get the most out of his many talented options. Rodgers has two of his trusted pass catchers from Green Bay by his side in Allen Lazard and Randall Cobb, as well as a rising star Garrett Wilson and veterans Corey Davis and Mecole Hardman. The New York Jets backfield recently got jumper cables hooked up to it with the signing of Dalvin Cook, and on Tuesday, Breece Hall was activated off of the unable-to-perform list.

Will Aaron Rodgers turn the Jets into instant contenders?
This is a level of skill-position talent Rodgers has never had as a starting quarterback, not even during his sole championship season in 2010. Wilson was named Offensive Rookie of the Year in 2022 with 83 receptions and 1,103 yards, despite the Jets starting three different quarterbacks that year. Greg Jennings was an outstanding football player, but he was never forced to perform in his prime with that level of instability at quarterback.
That Packers team also had no running game. James Starks steadied the backfield in the playoffs, but Ryan Grant was their best back and he went down in Week 1. But the Jets have just signed one of the best players in Minnesota Vikings history in Cook, and he is only 28. Hall was averaging 5.8 yards per carry last season before tearing an ACL in Week 7 against the Denver Broncos.
Offensive line continues to be a position of concern for the Jets, though, and most of that stems from health issues last season. In 2022, the Jets started 11 different players on the O-line. Duane Brown is supposed to be ready from offseason shoulder surgery by Week 1. The Pro Bowl tackle missed the first four weeks of the season with an injured shoulder and played through pain the rest of the season. If he can hold down the blind side all year, the Jets have enough skill-position talent to avoid relying on a dominant line. And if the Jets can keep Mekhi Becton on the field at the other tackle spot, they certainly shouldn't have problems.
With a defense that is sure to terrorize opposing offenses this season, there is no blaming the supporting cast if things go south for the Jets. Last season, the Packers gave Rodgers two rookie wide receivers, one out of the FCS, and the other from Nevada. Also, a defense that was supposed to be one of the Packers' best units in recent memory turned out to be a disappointment. Pro Football Focus rated their offensive line as third-best in the league at the end of the regular season, but that wasn't enough to get the Packers' offense out of neutral for most of 2022.
Rodgers won consecutive MVPs in 2020 and 2021 but doesn't have to be anywhere near that good for the Jets to make the postseason in a crowded AFC. He just has to make a few MVP plays when needed, and direct a competent offense. If Rodgers does that much he will see one, if not all, of the young star AFC quarterbacks, Patrick Mahomes, Josh Allen, and Joe Burrow, in the playoffs.
Injuries can sink a season easier in football than any other sport, but if Rodgers and the Jets stay largely upright in 2023 and don't make the playoffs, the problem won't be the supporting cast. There won't be plenty of blame to spread: it will fit solely on the bagel wearing No. 8 behind center.