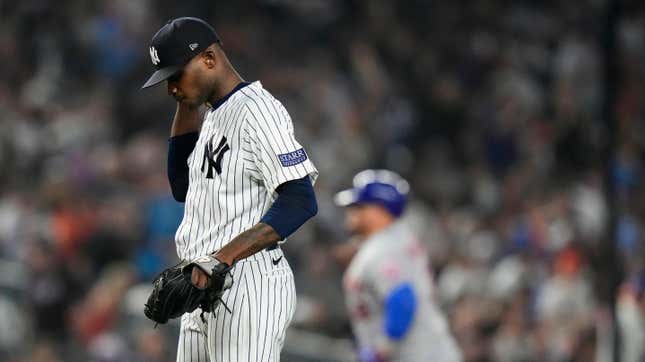 Domingo Germán's career was forever altered the moment he threw the 24th perfect game in baseball history. As many humans have walked on the moon as have walked off an MLB mound perfect, and Germán is one of them. Despite a 5-7 record, and 4.56 ERA this year — and 4.41 ERA for his career — he's shown he can be flawless, and that gets you a runway of leniency in sports.
How running an NFL team is like running a restaurant | Chef Emeril Lagasse
When you take into account that Germán's feat came in pinstripes, becoming the fourth New York Yankee pitcher to do so, he likely won't have to buy a meal in the Bronx ever again. Normally, "drink" would be in place of "meal" in that last sentence, but seeing as Germán is in rehab for alcoholism, and shut down for the remainder of the season, I thought better of it. I have a tremendous amount of sympathy for people who struggle with alcohol abuse; it's a disease, it's corrosive, and it's rampant. However, this isn't the first time Germán has allegedly been violent, and intoxicated, at work or at a work-adjacent function.
In 2019, Germán slapped his then girlfriend, and now wife, at CC Sabathia's charity gala. He was apparently drunk then, too, and later in the evening the woman had to call the wife of a fellow Yankee to come over and help her after Germán became abusive again.
That awfulness earned Germán an 81-game suspension, and I guess reset his demerit card. The quotes out of New York's clubhouse after this latest incident — with reports saying Germán smashed a TV, flipped a couch, tried to sweat out the booze in the sauna, and had a supervised timeout in the team nap room — are largely sympathetic, and you'd expect that with the nature of sports, and how easily forgiven and forgotten bad behavior is for the uber talented.
Manager Aaron Boone, who was allegedly confronted by Germán during the drunken tirade, called his pitcher "a sweetheart of a guy" after Germán was placed on the restricted list Thursday, and that's just too much, man. We're not doing that, not with him, and while I'm triggered, how the hell is he still on the roster?
Name me another industry, or sect of society, where a coworker slaps his date at a charity event, and then in a different episode, obliterates the office in a fit of drunken rage, and not only keeps his job, but isn't charged with crimes, or immediately rendered a pariah. This is borderline enabling.
Were there no stipulations of sobriety in the first punishment? While the Yankees and Brian Cashman can, and should, cut ties with Germán, the organization doesn't have to leave him on his ass. They have the money for treatment and appear to be very concerned. He also has the money to pay for it out of pocket.
Let me appeal to the group that I know is upset, because I have no sympathy and brought up old shit. He betrayed his teammates! How can he be trusted? Rabble, rabble, rabble, unwritten rules of baseball, rabble rabble, rabble, accountability!
I know this is a very difficult concept in a world defined by winners and losers, but two things can be true at the same time. You can, say, pitch a perfect game and get released in the same year. I doubt that's happened before, yet there's a first for everything.
Wherever Germán would be after theoretically losing his job is far from your everyday rock bottom. He'd be fine, and someone else's problem, because he'd get signed. Used goods; a cheap asset who once threw a perfect game, plus, didn't even commit domestic violence this one time.