A fundamental part of the marvel that is LeBron James is the sheer madness of his journey. Here is a man who was on the cover of national magazines and playing in front of millions on cable TV as a high schooler, who by the time he was eligible to vote was already being hailed as the successor to quite possibly the greatest basketball player of all time, and who today stands in the midst of his fifth consecutive NBA Finals appearance, putting on one of the most mind-bending individual performances ever. Under ridiculous levels of hype and pressure, a diamond emerged, even more brilliant than anyone had hoped for. And while Neymar is still pretty early along in his career, we're seeing something very similar.
Yesterday, Neymar's Brazil had their first chance to try and rebuild some of the confidence that was destroyed in last summer's World Cup. Their opener in the Copa América—the South American equivalent of the Euros, and on par with that as the joint-second-most prestigious international tournament behind the World Cup itself—was against little old Peru. A squad teeming with superstars from the most famous soccer nation in the world against a South American also-ran, this was supposed to be a romp.
Instead, what we saw was an all-too-typical display of modern Brazil, failing to assert their dominance in any kind of sustained way and coasting on the prodigious individual talents of a few of its players. Willian looked dangerous throughout, substitute Douglas Costa made some impressive runs in his time on the pitch, and in Dani Alves and Filipe Luís (who aren't even sure starters when the whole team is healthy), Brazil proved once again that no one can match them in class and depth at the fullback position.
But there was no mistaking who the lone star on the night was. Like he's done for years now, Neymar put the team on his back and carried them to victory almost by himself.
That highlight reel above shows just how outrageously complete the 23-year-old's game already is. For the first goal, scored almost immediately after Peru stunned everyone by jumping out to the lead just minutes into the match, Neymar starts the move by blowing past a defender near the halfway line and racing down the sideline. He then slows things down, cuts back and towards the center of the pitch to find a teammate to lay the ball onto.
G/O Media may get a commission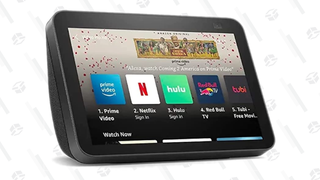 Neymar is so dangerous that at all times during this play you see at least two and usually three Peruvian defenders rushing out to him, terrified that if given any kind of time and space on the ball he'll slide right through all of them and pelt the ball into the net. As the defense contracts around him then expands as he passes it across the field, the winger sees the gap through the heart of the field his movement and the inevitable attention it attracted opens up and sprints into it. The ball continues to circulate to Dani Alves, who curves in a perfect cross onto an unmarked Neymar's forehead for him to direct home with ease.
What looked like a simple case of distracted defending was actually a direct result of Neymar recognizing how the defense was so singularly focused on him, and using that fact to disappear into the fold when they erroneously believed the danger had passed. Neymar scored because the defense was so afraid of letting him score.
Despite being his only goal, that header wasn't the sole time Neymar showed off his scoring prowess. He was unlucky when what looked like a certain goal was cleared off the line by a Peruvian throwing himself at it and hoofing it away before it could hit the net. He also damn near cracked the crossbar in half with this stunning strike:
And of course, it wouldn't be a Neymar game if he didn't make a fool out of a defender or two, most prominently with a couple sombreros. (Why juke past defenders with the ball at your feet when you can do it just as well with it in the air?)
Lionel Messi is still the God of the Dribble, and only Neymar and Eden Hazard come close to matching the holy-shit-how-did-he-get-past-those-guys? quality of the Lord's work at its best. Messi is appropriately nicknamed La Pulga, "the flea," because that's the closest approximation to describing what he's like while dribbling. You hear him buzzing near you, barely able to even see what's making all that noise, so you chase after where the sound is coming from with little hope of actually catching it. If you are so lucky to catch up to the bugger you can swipe and swipe but you'll rarely ever be able to make any contact. On the off chance you do manage to slap down on it, the buzzing ceasing, you'll lift your hand expecting to see a little pock of bug guts only for the flea to hop right back up and flit off, completely uninjured.
Neymar, in contrast, is more like a spider. He'll stand there coyly waiting for you to make your move, then skitter past you right when you're about to strike. His eight legs mean he can scoot off in any direction at any moment without losing even a hint of momentum. Also like a spider, Neymar's antics with his twinkle-toes inspire hatred among the defenders, who want nothing more than to crush the fucker with all their might, both angry and afraid of the havoc an unleashed spider can wreak. It's not for nothing that right as Neymar made his way past the two men marking him, one of them just barged into him, presumably insulted at Neymar for "breaking the rules of the game" or whatever idiocy they (and the others who've been riled up by the Brazilian's game) conjure up to excuse their decision to smoke a guy for the crime of being better.
Even on top of all that brilliance, Neymar against Peru demonstrated again the most underappreciated aspect of his game: the boy can ping a pass. The sombreros and the goal were impressive, definitely, but that pass he sent in stoppage time for Costa's winner was something else:
It had to be so tempting, running down the left flank, squaring up his body directly forward in that way of his when you know he's setting up the defender for the inevitable, unstoppable cut-back, to see in his mind's eye a perfectly-curled beauty into the top corner, and him cantering off towards the corner flag, again the star and savior for the country whose faith and expectations have been resting directly on his shoulders since he was a teenager. He had to have thought about that, and you can see him thinking about the shot in the way he stutter-steps towards the top of the box.
Instead, Neymar kept every option open, and with the defenders also expecting Brazil's finest to uncork that difficult shot, he spotted the open run of Costa down the opposite wing. In the same selfless spirit as that of the Barcelona attack that dominated Spain and Europe this past season, Neymar chose the safer option and side-footed a perfect ball that bisected all six Peru players in his way and rolled right into Costa's stride for him to direct into the net. It was nuts:
Neymar didn't need to be the goal scorer, didn't need to see his name on every front page in Brazil (though, the audacity of that pass probably put him in that position anyway) as the winning scorer. Neymar just wanted to use every tool available to him to ensure his team came out on top of his opponents.
Sports comparisons are always dangerous, and cross-sports ones even more so, but there are real parallels between Neymar and LeBron. These are two guys who've lived with the weight of the world on top of them from unfathomably young ages, who've somehow managed to navigate it all with barely a blemish on their reputations, and more importantly, have surpassed even the wildest imaginations of millions. That they've done so with such selflessness, each just as willing and able to decide a game by assisting as by scoring, is maybe the most remarkable thing of all.
Photo via AP Images