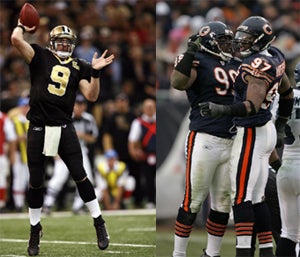 We're not sure what more we can say about any of these games, except to say that Rex Grossman vs. Drew Brees is certainly the marquee quarterback matchup of Sunday, without question.
We know the Saints are the sentimental favorite here, but we think it's important to remember the Bears fan: We're not sure that place could handle more than 21 years between Super Bowls. Oh, no, they're havin' another heart attack!
Here's some picks from around the Web.
• Cool Standings: Saints.
• Football Outsiders: Bears.
• Harmon Forecast: Bears.
• Paul Zimmerman: Saints.
• Peter King: Saints.
• Lil' Sean: Saints.
• Dan Shanoff: Bears.
• Kissing Suzy Kolber: Saints.
• Deadspin: Bears. They have been the best all year, and besides ... we're just not sure we can take two weeks of soft focus human interest stories. We just can't.
A tight one here. Whaddya think?