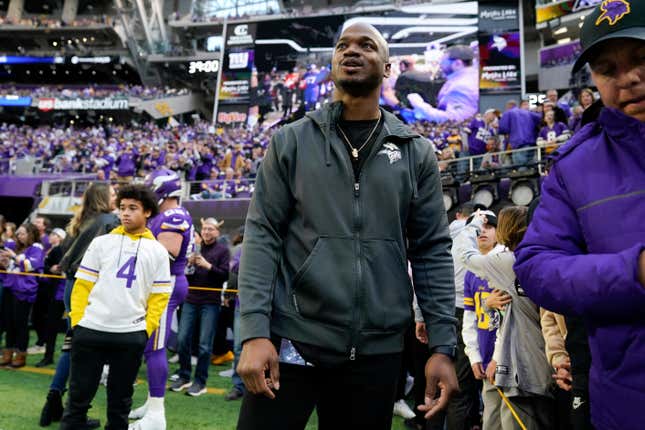 Apparently, Adrian Peterson is ready to return for another NFL season. That's interesting because after not playing in 2022, it felt like the former All-Pro running back had finally faded into the background and quietly called it a career. Nope. According to Peterson, he's hoping for a comeback in '23.
5 Richest active NFL players | Money Mondays
A Texas native playing for the Dallas Cowboys?
Of course, Peterson being a Texas native automatically brings about talk of him potentially signing with Jerry Jones and the Dallas Cowboys. Peterson might be able to carry the ball in short-yardage situations, but at age 38, who knows how much his body can take at this point? He's always been in fantastic shape, but those hits hit differently at the RB position when you're approaching 40.
Few NFL RBs make it to age 38 and still have an NFL team to call home. Especially not backs who ran as tough and played the way AP did. One of Peterson's nicknames, when he played, was "All Day" because he always played so hard. There was nothing half ass about AD in his prime.
Already enough wear and tear on AP
Look at Peterson in college at the University of Oklahoma. You could see then how much of a beast he was bound to become when he rushed for 1,925 yards as a true freshman. In 13 games, this kid ran for almost 2,000 yards. That sounds absolutely absurd, but it happened. In his second year in the NFL for the Vikings (his first full season as a starter), Peterson ran for 1,760 yards and averaged 110 yards per game.
The man was a stud on the field, but the last few years he's played haven't been great. It's clear he's got something left, but it's far from what he was capable of even five years ago. In Peterson's first year in Washington in '18, he rushed for over 1,000 yards which is great for the average back in the NFL but a significant drop-off for AP.
Ultimately, if Peterson still thinks he can go, that's awesome, but he'll need to convince an NFL team to give him a roster spot over players who are more than a decade younger. Indeed, he wants to end his career on his own terms, but unfortunately, it doesn't work out that way for most professional athletes.