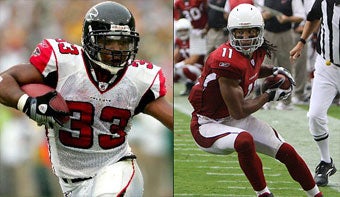 If there are any athletes out there who want to get a domestic disturbance incident in before the end of the year—save it. The store is closed.
But two playoff-bound fathers did manage to sneak something in under the wire. Atlanta's Michael Turner did not get arrested, but cops were called to his house Monday night after an "incident" with his mother's child. No harm, no foul, I guess. Arizona's Larry Fitzgerald, on the other hand, is on the wrong of a restraining order after allegedly shoving his mother's child around back in October. Note: No horseplay around Larry Fitzgerald.
So there you go. A little something to cheer you up on this last day of this cold, cold year. We suggest you find a nice, modestly price bottle of champagne and then bash yourself over the head with it to drive out the bad thoughts.
NFL Superstar Accused of Baby Mama Beatdown [TMZ]
Falcons running back Michael Turner involved in a domestic dispute, police say [AP]