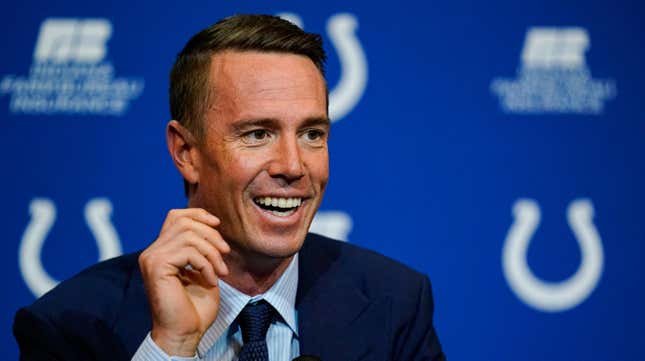 After failing so miserably with the Indianapolis Colts last season, free agent quarterback Matt Ryan has announced the next step for his career — broadcasting. Ryan will be an analyst for CBS, calling games from the booth and also appearing as a frequent in-studio guest. Ryan, who turns 38 on Wednesday, tweeted the announcement but also insists that he's not retired. Not sure why Ryan would find employment outside of an NFL franchise if he thought playing for one was still on the table.

5 Richest active NFL players | Money Mondays
Ryan isn't a Hall of Famer. He's had a solid, long, profitable NFL career and even won an MVP in 2016 while finishing the season leading the NFC's champions. He's not fooling anyone though, what team would give him a third shot at starting after getting benched twice last season? The Colts were seen as shoe-ins to make the playoffs as the perceived best team in the worst division in football. That ended up being Jacksonville. Nothing says your tenure at quarterback in Indianapolis went smoothly like the franchise using the No. 4 overall pick of the next draft to select another signal caller. I'm sure Ryan will be fine inside the booth. He continues the trend of white quarterbacks getting into those coveted spots after Tony Romo (Editor's note: Romo's father is of Hispanic descent, while his mother is of German and Polish descent), Tom Brady, and Troy Aikman. But this isn't a side job. It's Ryan's primary one now.
Ryan's release from the Colts saved the team $17 million, but he's still owed $12 million from his base salary. And the NFL could deny Ryan those payments if he officially hangs up the cleats. Soon-to-be-38-year-old Ryan's 28 turnovers in 2002 say more than any non-retirement announcement about his football future. Best of luck in the booth now that you're done playing in the NFL Matty!