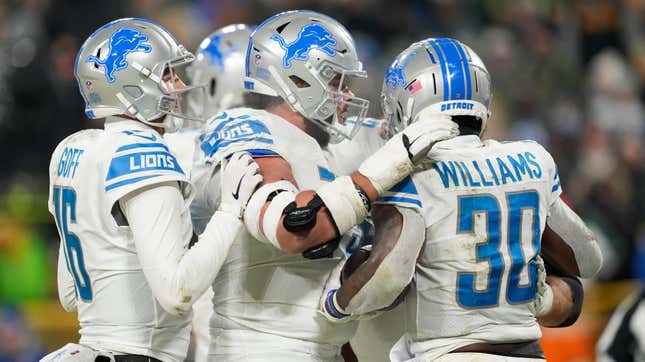 Who knew the Detroit Lions could be so inspirational?
There comes a time in life for all adults when one day they have to look in the mirror and tell themselves, "my life belongs to me."

Aaron Rodgers on the brink of disaster | Trash Talkin' Tuesday
It could be a run of breakups that, with hindsight, a person realizes all of those significant others were all terrible people — and also broke. Maybe, after a third layoff, a person feels sick just smack in the middle of the gut after again desperately clinging to a hated job that resulted in no worthwhile reward. Or maybe it's more insidious. A friend, or possibly a family member — or five — who provides three dollars of discouragement for every dollar of encouragement.

Can I preach about it how I feel it?

Be more like the Lions
If any of you out there should find yourself in this rut, this drag, this hamster wheel of disappointment, I say to you take a lesson from the Detroit Lions. This franchise, a franchise that has won a single playoff game since nearly a decade before the Civil Rights Act was passed, decided that enough was enough. They weren't going to allow life to simply happen to them anymore, They took back control, forcefully.

Dan Cambell's crew could have kicked that field goal on 4th and 1 with one minute and 15 seconds remaining in the game. Why not go into overtime?

Maybe if the playoffs were still an option for the Lions, he would have made a different decision. Instead, D.J. Chark Jr. caught a pass five yards in front of the first-down marker at Lambeau Field. The result — the Lions clinched their first winning season since 2017 and kept their division rival — Green Bay Packers — out of the postseason.
Remember, the Lions are a franchise that has employed two of the greatest players in NFL history, and less than 20 years apart both Barry Sanders and Calvin Johnson retired early. The Lions fired Jim Caldwell after a 9-7 season in 2017, and have been in their familiar state of irrelevance ever since.
After the Matt Patricia years burned up like a cheap cigar, the Lions brought in Campbell and his borderline comical enthusiasm — along with his alarming caffeine intake. He brought with him one of the most diverse coaching staffs in the NFL and a determination to change this franchise that has been largely moribund for seven decades.

Don't look back in anger
The 2021 season was rough with many one-score losses. In 2022, they didn't begin the season with 12 consecutive defeats, however, the previous season they didn't get shut out by the New England Patriots, who were sans a legitimate offensive coordinator and quarterbacks coach.

On Halloween, Campbell fired his defensive backs coach. While the connection between that decision and the Lions' subsequent success is faintly correlative at best — their pass defense has struggled in November and December — they did finish the season 8-2.

If nothing else, it proved that the aggression Campbell said that he wanted from his group was not simply show for an introductory press conference or a premium cable television show. He was serious, and his team bought in. Last season, the Lions set the record for the most fourth-down attempts in a single season in the history of the NFL with 41. In 2022, they took their foot off the gas just a bit with only 37 attempts, but there was no way they were going to let the Packers off the hook at the end of last night's game. Especially, after nearly converting a 2nd and 17 when they ran a lateral two plays before ending Aaron Rodgers' season.

It wasn't just that final offensive drive that showed if the Lions couldn't take control of their own postseason destiny, they were ready to take command of their football lives. There were all of those first-half drives in which the Lions' defense forced the Packers into field goals. There was the fourth-quarter touchdown drive that took 13 plays, and the blitz the Lions called on third down which finally resulted in Kerby Joseph finally nailing one of Rodgers' many hanging breaking balls.

So for those of you who are unsatisfied with life. It's a new year, and you're sick and tired of being sick and tired. Take heed of what the Detroit Lions have accomplished this season. Take some chances. Be as aggressive as possible.

A lot of them won't work, but if you persevere long enough, when the time comes you'll be ready to convert that fourth-and a long-1, to snatch back control of your life.