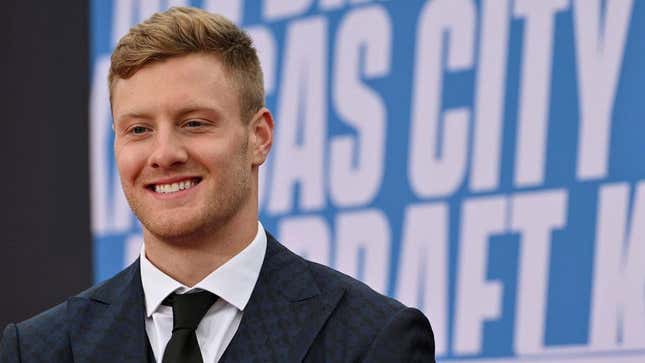 Don't ever let anyone tell you to be yourself. You never know what people will find weird about your "personality." I ate peanut butter and cheese tacos as a kid, but I would never broadcast that if I was projected to be a first-round pick in the NFL. According to the experts — Mel Kiper and some Redditor, specifically — Will Levis was likely to be the second quarterback selected in the 2023 NFL Draft, and the only possible reason for him to drop to day two was his love of mayo in his coffee.

Should the NFL adopt a draft lottery? | Agree to Disagree
General managers will knock prospects for anything, up to and including their performance on made-up standardized tests. Inconsistency, inaccuracy, eye test, and collegiate success aside, I blame the Hellmans-Folgers mochaccinos for multiple teams in need of a QB passing on the Kentucky product. That has to be it, right?
When given the choice between Anthony Richardson and Levis — two guys with physical attributes that make Todd McShay blush — there has to be a tiebreaker. It could've been Richardson's handspring at Florida's pro day that won Indy's favor, or it could've been the dollop of aioli they watched Levis drop into his cold brew.
Do I have a phobia of excessive condiment usage brought on by people drowning their Italian BMTs in mayo during my stint at Subway? One-hundred percent, and there's no way I draft Levis on that fact alone, but I'm also not trying to keep a seven-figure gig that's constantly sabotaged by bad quarterback play.
The actual reason Levis fell
We were subjected to the sad Levis family for the last half of the first round because a lot more organizations are set at quarterback than you think, despite probably not having an actual franchise guy. Tampa Bay, Atlanta, Green Bay, Tennessee, and Washington all passed.
None of Jordan Love, Desmond Ridder, Sam Howell, Ryan Tannehill, or Baker Mayfield inspire confidence in their corresponding fanbases. I also think once the draft gets wonky — and with all the trades Thursday night, it was wonky — front offices and war rooms panic because their game plan was upended.
I don't care if Las Vegas and New Orleans just signed Jimmy Garoppolo or David Carr to be their starters. NFL teams don't get rid of quarterbacks they think are solid starters, and a quality backup/potential QB1 with high upside for a good value is worth bumping other needs a round. I've ripped Levis pretty much all draft process long, and probably before that, but even I thought the amount of adoration he garnered would make him a first-rounder.
Are NFL GMs evolving? Has the success rate of quarterbacks made them gun-shy? Did social media break through the groupthink that turned guys like Mitch Trubisky and Mayfield into top one or two picks in the draft?
Yeah, I don't think so either. It's an anomaly that Levis spent the duration of the first round at Union Station. And it definitely has nothing to do with the Miracle Whip lattes.