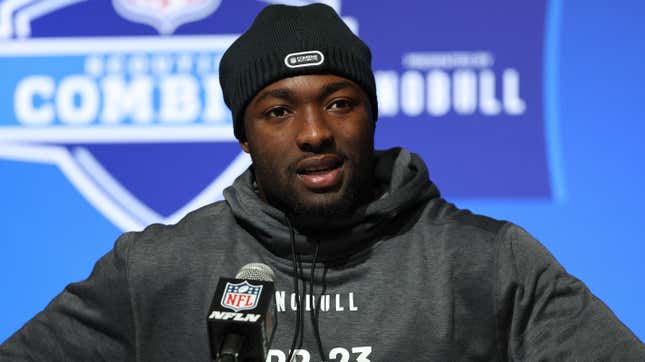 A running back missing an ACL, that is how a Division I football player can average 7.3 yards per touch, score 21 touchdowns as a senior, and fall to the third round. AAC 2023 Player of the Year Tyjae Spears wasn't even the first player selected out of his conference. Rashee Rice was drafted with the 24th pick of the second round by the Kansas City Chiefs.

NBA getting ROCKED in the ratings by the NFL
Spears was drafted by the Tennessee Titans with the 18th pick of the third round. NFL Network's Ian Rapoport reported during the draft that Spears was missing an ACL and had signs of arthritis in that knee after tearing the ligament twice. Spears brushed off the report when asked about it at the Titans minicamp.

"I was out there," Spears said to the media. "I did everything, so I feel perfectly fine. Nothing wrong with me. I'm healthy."
Spears is not the first athlete to lack an ACL
He won't be the first player to play professional sports missing an ACL. Hines Ward went through an entire athletic career without one. Ward injured his ACL in a bike accident as a child. During the draft process the missing ACL was discovered and he — just like Spears — fell to the third round.
Ward played 14 seasons for the Pittsburgh Steelers. He went to four consecutive Pro Bowls, was named second-team All-Pro three times, and was also named the MVP of Super Bowl XL. Not bad for someone missing a knee ligament.
In the NBA, the ending was not a fairy tale for DeJuan Blair. He was projected to be a lottery pick after falling one Scottie Reynolds shot short of leading Pittsburgh to its first-ever Final Four appearance in 2009.
After Blair declared for the draft, it was discovered that he was missing not one but both ACLs. He fell to the second round and was selected by the San Antonio Spurs. Blair was named second-team All-Rookie, and even registered a 20/20 game that season.
He played four seasons with the Spurs. In his second and third seasons he averaged over 20 minutes per game during the regular season, but he never fully cracked the Spurs playoff rotation. Only in the 2011 playoffs did he average better than 10 minutes per game, and that is the season in which the Spurs lost a 1 vs. 8 first-round matchup against the Memphis Grizzlies. Blair's NBA career lasted seven seasons.
Seven seasons for Spears would make his NFL career a rousing success. That would mean that he arrived at a second contract. He will likely never be paid like the running back that he will be spelling — Derrick Henry — but Spears might get to pocket a few million dollars before walking away from the game if can be the dual-threat back that he was in college.
It can happen as long as he can keep on cutting with only one ACL.