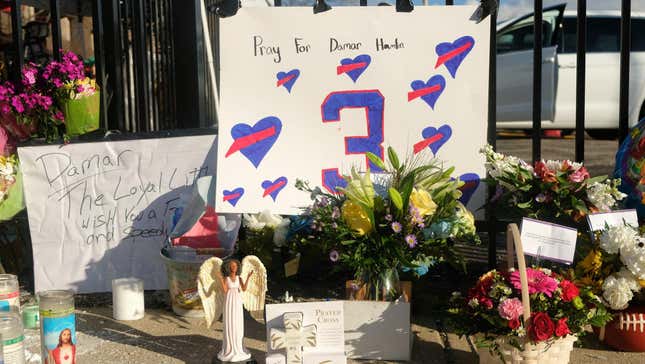 The (sports) world has been holding its breath ever since Damar Hamlin collapsed on the field on Monday Night Football during the Buffalo Bills and Cincinnati Bengals game. And while there have been a million takes on this scary and unfortunate incident, Garrett Bush from The Ultimate Cleveland Sports Show has been the one that's said the quiet part out loud.

Worst NFL coaching decisions of 2022 (so far) | Agree to Disagree
This is bigger than a sports story. It's a human rights story — and a labor issue.

"You know what the NFL will tell you? Well, you know what, 'we'll look out for the people like him.' No, you won't... The Bills owner Terry Pegula [is] worth $6.7 billion. My question to you is, 'NFL, when do salaries become guaranteed, if you know these young men are going out there, and they could die on that football field," Bush asked on a recent episode of the show.
"I don't give a damn what your thoughts and prayers are. Do the right thing.," he continued. "I'll be damned if I'm gonna sit up there and pat Roger Goodell on his back for running this organization the way he does. They run it like a criminal organization. Sick of it. I'm tired of that."
In his monologue, Bush — a former player at Ohio University — mentions that Hamlin hasn't played long enough to get a pension, how the payout for the disability policy has been lowered, how the league denies benefits to former players, how much of the CTE settlement money has yet to be paid out, and how pension payments have been lowered.
A quick Google search will update you on a lot of the information that Bush spoke about, as many of these things fly under the radar, or people ignore them because they're so focused on betting on games or fantasy football rosters. As we've learned that Hamlin is awake, has held hands with family members, and Facetime'd his team, it should be a reminder of where the players' union should draw a line in the sand when it's time for their next collective bargaining agreement — given that they have a long history with having problems presenting a unified strategy.
If anything is going to change, it will be because the players forced the league to comply. The NFL has proven for decades where they stand on this. And if you need another example of what that looks likes, remember that the league's executive vice president of football operations — Troy Vincent — is out here doubling down on the denial that the league gave the Bengals and Bills five minutes to warm up before they were to resume Monday's game, instead of focusing on the things that Bush mentioned.
"I just want to be clear," Vincent said earlier in the week. "Just that suggestion alone was inappropriate, it was insensitive and, frankly, it lacked both empathy and compassion for Damar's situation, who is still and was fighting for his life this day. It lacked complete, and it was just so insensitive to think that we were even thinking about returning to play.

"The only thing that mattered to myself, the team here, the folks in the stadium and the coaches was the health and wellness of Damar and getting those coaches back to the locker room so they could look those players in their eyes and see who they are. They were hurting, there was a lot of pain. And talking to the commissioner [Roger Goodell] and communicating with everyone, it was just important … we just couldn't play."

ESPN is basically calling Vincent and the NFL liars, as they're standing firm in the fact that Joe Buck reported what the league relayed to the network.

This is the game the NFL plays. They want you to focus on a he-said/he-said between them and a network instead of paying attention to the fact that Garrett Bush has identified the smoking gun.