The NFL insisted on the holding the draft at the Philadelphia Museum of Art. During talks with the league, Philadelphia Mayor Jim Kenney suggested the sports complex or Center City's convention center. "They just weren't interested," he told the Inquirer. "They wanted the iconic steps, and I think it's going to make Philly look really good."
The steps may make Philly look good at the NFL Draft, but it won't be the Art Museum in the background when Roger Goodell begins announcing picks tonight.
The NFL Draft stage is on the iconic Art Museum steps, the ones tourists run up to pretend they're Rocky Balboa. But a quick run to the NFL Draft stage today showed it was, most certainly, a fake Art Museum backdrop.
As noted by Billy Penn's Dan Levy, the Art Museum backdrop on the NFL Draft stage is made out of foam. "There's a little bit of an illusion there," NFL Director of Event Operations Eric Finkelstein told reporters earlier this week. "You found us out. We wanted to highlight not only the Rocky steps, but the Museum—real staples of this city to show this event is Philadelphia and part of Philadelphia. So we replicated the front of the museum as part of our stage."
The plan is for the new draftees to walk down the Art Museum steps before shaking Goodell's hand. But they won't be replicating Rocky's run. The foam Art Museum is only a short way up the steps.
G/O Media may get a commission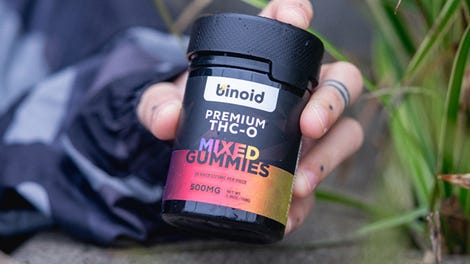 25% Off + Free Shipping
Binoid THC-O Gummies
In summary: The NFL insisted on the Philadelphia Museum of Art for its draft venue, then constructed a fake Philadelphia Museum of Art anyway.
The PMA did not immediately return a request for comment on the artistic value or quality of the fake art museum.