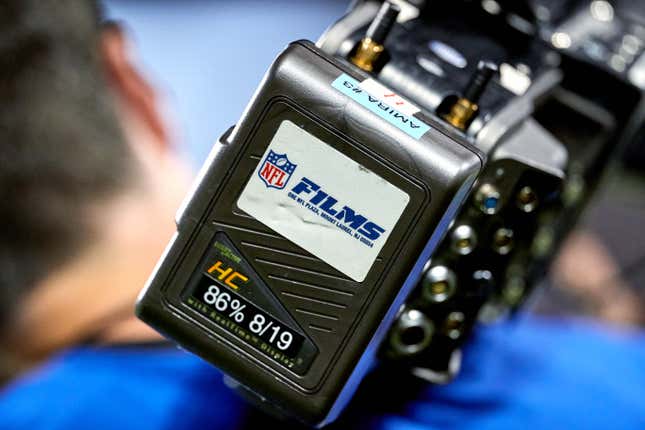 It's combine week in the NFL, and to celebrate the league's views of human flesh, it's in the news for objectifying women — again. Per a report by the Wall Street Journal, the league and NFL Films allegedly had an archive of fan and cheerleader footage categorized like PornHub kinks — "cheerleaders buttocks," "cheerleaders rear end," "female fan in bikini top," "naughty camera work," "close up of cheerleader's breasts; cleavage shot," "shot of endowed woman" and "random woman, cleavage shot" — with an accompanying "chat room log tracking timestamps on NFL footage and linking the timestamps to sexualized and offensive descriptions of women captured on that footage."
The allegations were part of a discrimination lawsuit by a former employee, Victoria Russell.
NFL spokesman Brian McCarthy said the footage is labeled as sensitive — but not with derogatory words — to prevent it from being used in future videos.
"Those frames are logged as 'sensitive' so that they can be removed from circulation, meaning they will not be accessible to employees whose job it is to locate footage for productions," McCarthy said. "Ms. Russell didn't have credentials for the logging system, nor did any aspect of her responsibilities involve accessing footage."
G/O Media may get a commission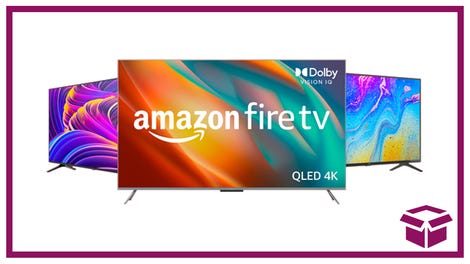 Ooh. stunning.
New Amazon Fire TVs
Who is Victoria Russell?
Russell, who is a Black woman, worked in human resources for the NFL for four years up until 2022. During her time with the Shield, she said she got the run-around over a promotion, was abruptly fired after complaining to the league's diversity officer, and was denied a workspace, as well as raises and openings that white and male employees enjoyed. Russell also was pregnant when she was up for the promotion and didn't receive any notice of poor performance.
The league refuted Russell's allegations in the lawsuit.
"We are committed to providing all employees a workplace that is respectful, diverse, inclusive and free from discrimination and harassment," McCarthy said. "The NFL didn't discriminate or retaliate against Ms. Russell during her time as a temporary staff member. We will vigorously defend against these claims."
She found the alleged video archive and chat logs during a 2018 audit, and apparently, she read the receipts.
"The commentary associated with the timestamps included approximately 14 pages of sexually degrading remarks about women," the lawsuit says.
NFL dogged by workplace culture lawsuits, problems
It wasn't long ago that common decency dictated sports entities pivot from "sex sells" because they're not selling sex. The archive in question might have been grandfathered in like the reels of the grandfathers running the teams, but it doesn't take a genius to know that allegedly zooming in on women with a camera, and then logging it is fucking creepy, and in some cases illegal, behavior.
This is a shitty look for the NFL but hardly a new one. McCarthy doesn't help its cause by repeatedly describing Russell as a "temporary" worker as if non-permanent employees matter less. (I know it's a minor thing, and he's simply attempting to lessen her credibility. It just comes off as tone-deaf, which is 100 percent on-brand.)
While that's just me seeing through the lawyer speak, there's the ongoing investigation of Washington Commanders' owner Dan Snyder and his alleged toxic workplace, Brian Flores and other Black coaches suing over discriminatory hiring practices, everything that happened with Jon Gruden, the Carolina Panthers' sale, and so on and so forth.
This Russell lawsuit ticks all those boxes, but alas it won't matter. It's apt that the NFL is commonly referred to as the Shield because I'm positive this will bounce right off it like everything else.