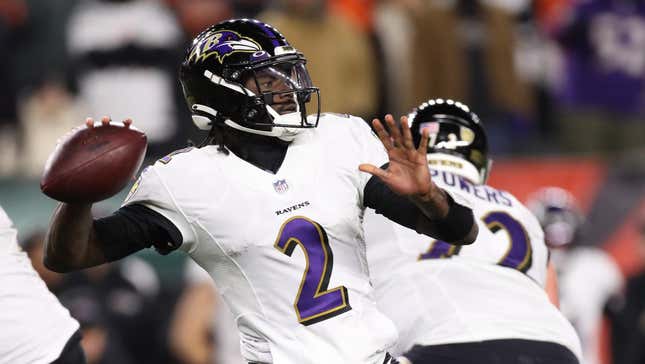 The Pro Bowl has rarely been a true All-Star game. It's the only one in major American professional sports to take place after the conclusion of the season and not about halfway through. There are no real stakes to missing the Pro Bowl either, unlike in the NHL, where skipping its All-Star Game, if healthy, incurs an automatic one-game suspension. The feel-good nature of the Pro Bowl being in Hawaii, flying out some sort of teacher of the year and the true spectacle of being the season finale of every NFL season has been lost, despite any skills competition that takes place this year. The league giving less of a crap about this game is undeniable. And replacing Josh Allen with Tyler Huntley is only further proof. Who is Huntley you might ask? Great question!
Two touchdown passes earn a QB a Pro Bowl nod?
If the NFL wanted to give fans a reason to laugh today, great job. Having a quarterback who threw two touchdown passes the entire season on the AFC's roster proves it. It doesn't quite distract from the abysmal officiating in the AFC Championship Game but it's an attempt to change the subject. How many quarterbacks must have turned down the trip to the Pro Bowl for Huntley, who finished in a seven-way tie for 48th place in touchdown passes this season, to make it? Huntley threw as many touchdown passes this season as David Blough and Taysom Hill, a whopping two! He's one of the league's best!

Lamar Jackson-Baltimore Ravens drama
There has been a ton of drama surrounding the Ravens and their quarterback situation. Baltimore desperately wants to hang onto Lamar Jackson and will likely have to break the bank to do so. And if you think more than a dozen teams in the NFL wouldn't change around their entire payrolls to sign Jackson, you'd be wrong. Yet, with a Pro Bowl now on Huntley's résumé, it doesn't change anything. That's how important the NFL's All-Star game is. Placing it the week between the conference championship games and the Super Bowl was always a mistake. Adding a bunch of skill competitions isn't a bad move, but please point out one non-delusional Ravens fan who is going to tune into any Pro Bowl festivity now that Huntley is part of the showcase. What a needle mover!

How iconic are certain Pro Bowl moments? Giving Jeff Saturday one last chance to snap the ball to Peyton Manning before retirement, despite being elected to the contest for different conferences is one. What about Sean Taylor's introduction to the league with a legal, crunching hit on former Bills' quarterback Brian Moorman? Those moments are in the past and we'll likely never see anything memorable from a Pro Bowl ever again. But hey, quarterbacks with two touchdown passes this season and who didn't touch the field until last month get to participate! Hooray!