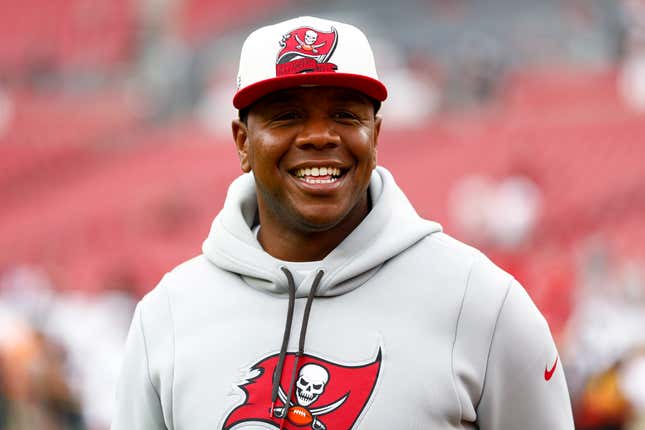 The Tampa Bay Buccaneers fired offensive coordinator Byron Leftwich. Leftwich just finished up his fourth season as Tampa's OC, having reached the playoffs each of the last three seasons — or every season with Tom Brady at quarterback. However, despite the playoff berth, 2022 was hard to watch. The Bucs went from the second-best total offense in the league — and best passing offense — in 2021 to the 15th-ranked overall offense in 2022. The Bucs averaged the fewest rush yards per game of any team in the league (76.9), nearly a full ten yards fewer than the next-worst rushing offense, the Houston Texans (86.8).

Leftwich's dismissal and Greg Roman's departure created more offensive coordinator openings, and that's not including all of the OC positions that have come from head coaches getting fired. Actually, it could be seven. Rumor has it that the Pittsburgh Steelers are planning on firing their offensive coordinator, Matt Canada, and replacing him with Leftwich as soon as Leftwich's termination is final. Everyone loves to talk about the head coaching vacancies and how enticing those opportunities can be. However, the offensive coordinator position might be a more appealing job option this time around. There are opportunities galore to work with young quarterbacks or halfbacks, without as much pressure that comes with being a head coach. Nowadays, most OCs get as much, or more, praise as their head coaches. So, here's how we rank the appeal of every OC vacancy in the NFL.

Note: We will not be considering Pittsburgh an OC vacancy since the vacancy is already reportedly filled as soon as Leftwich is officially let go — which he was. Also, not every team who fired their head coach will grab a new offensive coordinator. For example, the Houston Texans may have fired Lovie Smith, but their OC position is still filled by Pep Hamilton. Yes, there have been rumors of other teams bringing Hamilton onto their own staff, but nothing is set in stone. The Texans will also be omitted from this list. Essentially, any team that still has an offensive coordinator after firing their head coach will remain off this list unless there are immense rumors that he will be fired soon.