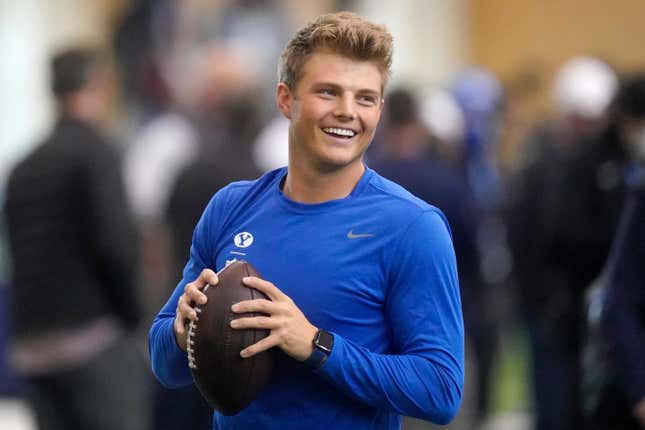 Before there was Hudl and YouTube, there were VHS cassettes. And before that, film. Studying and watching footage of your opponent, yourself, or a prospect has always been a vital part of sports. There's nothing like seeing what someone does against live competition and the variables that occur during a game. But, due to America's addiction to football and the lack of content between the Super Bowl and the NFL Draft, Pro Days have become the new "it" thing, despite them being suped-up solo practices that make players look like they can do something they can't.
What is the least important NFL Combine drill?
Tape don't lie. Game film is the true revealer of one's talents.
This week, every show on ESPN and FS1 will be dissecting quarterback prospects as Ohio State's C.J. Stroud, Alabama's Bryce Young, and Kentucky's Will Levis had their Pro Days.
Who will move up, down the draft board?
Somebody's draft stock is about to go up, or down, because they threw a perfect ball to a wide-open receiver, or because their accuracy was off on a few post routes. The idea that a solo workout on steroids in front of scouts and team personnel can tell you more about a quarterback than talking with them and watching what they've put on film will never make sense.
It's as if people didn't learn from inexplicably falling in love with Zach Wilson after that infamous throw he made at his Pro Day. A practice throw was the best pass he's ever made.
I'm old enough to remember when the combination of JaMarcus Russell's performance against Notre Dame in the 2007 Sugar Bowl and his Pro Day was enough to make people forget that his entire college career was proof that he'd be a bust in the NFL — not the two really good days he had.

"The most important thing is always gonna be the games," said Los Angeles Chargers president of football operations John Spanos, all the way back in 2013. "Whether the (pro days) are too scripted or not, it's always a small piece of the puzzle. But the big pro days are diminishing, especially for the top guys. You're having more private workouts. You want to get them doing everything, and so for high first-rounders, it makes sense. But you can't do that with everyone."
Far too often, unnecessary importance is put on measurables, hand sizes, and 40-yard dash times than need be, instead of focusing on whether a not a player is consistently good during a game — which can be proven by watching film and not some highlights from a Pro Day.
Private workouts held by individual franchises need to be the way of the future, as Pro Days are overrated. The NFL Combine needs to be eradicated, too, due to it resembling a modern-day slave auction. Besides, Bill Belichick skipped the combine this year, and history has shown us that some of the league's best players don't receive invites. Malcolm Butler, Julian Edelman, Antonio Gates, Tyreek Hill, and Adam Thielen all did pretty well for themselves without ever showing up in Indianapolis during the pre-draft process.

Drafting quarterbacks is hard. There's no easy way to know if a player's game will translate from college to the NFL, if somebody is a bust waiting to happen, or if they'll be better on Sundays than they were on Saturdays. But despite all that, there's got to be a better way to get excited by a player than just watching them go through a route tree without a defense in front of them.