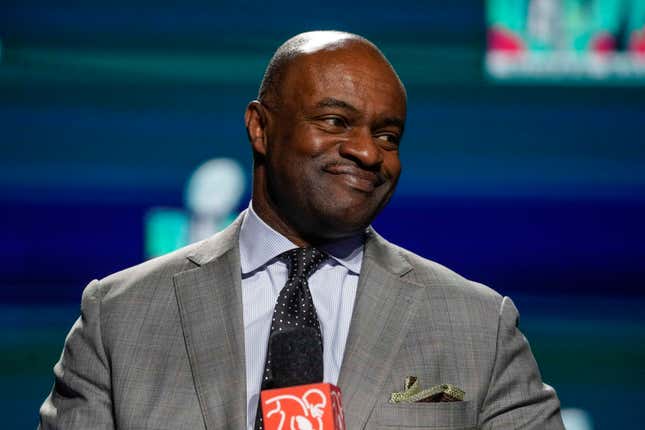 This Super Bowl week has been a busy one. Jalen Hurts and Patrick Mahomes have dominated storylines as they'll be the game's first two Black quarterbacks. The Kelce brothers — Jason of the Philadelphia Eagles and Travis of the Kansas City Chiefs — are playing on opposite teams. Rihanna is performing. Roger Goodell did a press conference where he said a lot of things that people probably didn't accept as fact. And the NBA even hijacked Thursday due to all the drama around their trade deadline. But, the storyline that deserves more attention is DeMaurice Smith's call for the eradication of the NFL scouting combine.

Mahomes or Hurts? Who will win NFL MVP? | Agree to Disagree
End the NFL combine
It's time for the annual event to end. The very nature of it is racist as hell.
"Think about it ... the NCAA and the NFL structure a combine during what should be every football player's what? Last semester in college," the NFLPA's executive director said during the players association's annual Super Bowl news conference. "Who decided that it was a good idea to take your son and have him exclusively try out for the NFL's exclusive way of getting into the league — for the most part, unless you're a free-agent player? You have to be invited to the combine.

"As soon as you show up, you have to waive all of your medical rights and you not only have to sit there and endure embarrassing questions. And I think that's horrible, and I don't wanna pooh-pooh any of that, but would you want your son to spend hours inside of an MRI [machine] and then be evaluated by 32 separate team doctors who are, by the way, are only doing it for one reason? What's the reason? To decrease your draft value."
Back in December, NFL Executive Vice President of football operations Troy Vincent — who is Black, like Smith — "ruffled some feathers" with the owners when he compared the combine to a "slave auction" — which it resembles quite closely.
Colin Kaepernick also made a similar comparison in his Netflix series Colin in Black & White.

"Coaches will tell you they're looking for warriors, killers, beasts. They say they want you to be an animal out there. And you want to give them that," Kaepernick says in the series. "Let me tell you something: What they don't want you to understand is what's being established is a power dynamic.

"Before they put on the field, teams poke, prod, and examine you. Searching for any defect that might affect your performance. No boundary respected. No dignity left intact."
Smith's words came during the league's most newsworthy week. And whether or not they were premeditated, they speak to a feeling that's been growing around how antiquated and inhumane the combine process is.

Over the years, players have been asked if their mothers were prostitutes and about their sexual preferences. And just last year, around this same time, the Senior Bowl announced that they would cease public weigh-ins.

Why was the change needed?
Because when it was done in public, mostly Black bodies would be stripped almost naked on a stage in front of a mostly white audience where their measurements and physical features were announced so that those mostly white men could make decisions about their future investments — in the same way that slave auctions used to operate.

The NFL has an annual revenue of close to $20 billion, which allows the league to be on the cutting edge of sports science. But yet, at its most ground level, the NFL still holds an annual combine that resembles a cruel and barbaric event to collect data on players that will sign million-dollar contracts in the coming weeks. Not only is it a choice to still be involved with something like that in 2023, but it's also an indicator of how the people who run this league think about the players — who are mostly Black.