NFL owners are poised to rake in a fortune from the recent franchise relocations of the Rams, Chargers, and Raiders. Those owners naturally won't be sharing a penny from that windfall with the players.
As a condition of approving all three franchise moves in the last 15 months, the league individually assessed relocation fees that will each be doled out to 31 other franchises. Those fees, according to various reports, total anywhere from $1.43 billion to $1.68 billion, or a distribution of approximately $46 million to $54 million per team. The fees are not new revenue, at least not directly; in fact, they're a form of preemptive revenue sharing designed to account for an anticipated spike in franchise value as a result of any relocations. There is no standard formula to dictate how these fees get calculated, and the CBA specifically excludes these fees from the revenues used to determine the league's salary cap. There is also no requirement that any owner reinvest any of the money he stands to gain from these fees into his team. If an owner so chooses, he's free to set the money on fire and light a cigar with it. A league spokesman declined to comment.
The NFL has a specific policy that governs franchise relocations:
The Rams and Chargers, who are now in Los Angeles, were assessed anywhere from $550 million to $650 million, while the Raiders, who are shoving off to Vegas, were hit with a fee estimated to be between $325 million and $375 million. The reasons for the disparities are baked into the eight factors the league can use to determine the fees, two of which are "income streams available to the club in its new location" and "income streams historically available to the club in its previous location." This would explain why Raiders owner Mark Davis, who is notoriously cash-poor, had to scrape together roughly half of what the Rams' Stan Kroenke and the Chargers' Dean Spanos had to in order to get his move approved.
The Spanos family has an estimated net worth of $1.689 billion—believed to be on the lower end among NFL owners—and he gained additional approval to finance the Chargers' relocation fee. According to the Los Angeles Times, the owners waived a standard $250 million debt ceiling before green-lighting Spanos's move from San Diego to L.A. And while $550 million to $650 million might seem steep, it's still nothing compared to the gargantuan enhancement in franchise value the Rams are expected to see by moving from St. Louis: Last September, Forbes estimated that Kroenke's Rams were worth $2.9 billion, more than triple their league-low estimated value of $930 million from just two years earlier.
G/O Media may get a commission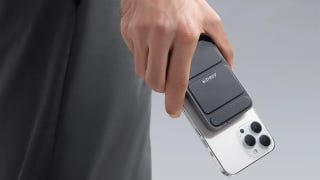 15% off
15% off Anker Top Ten Products
Take charge
Treat yourself to a portable power bank, a magnetic wireless battery for iPhones, or even a solar generator. There is a reason these are in the top ten. For instance, the Anker 747 Power Bank is a 4-in-1 charger utilizing USB-A and USB-C to be capable of charging up to four devices at once. Great to take with you when traveling and in need of keeping your phone, laptop, and even Nintendo Switch powered on.
Andrew Zimbalist, a sports economist at Smith College, told me a new stadium has a way of sweetening what a franchise is worth because it offers so much potential for new revenue streams: naming rights, luxury suites, club suites, restaurant and catering services, advertising and signage, parking. Kroenke owns the land on which the new L.A. stadium will sit but, as Zimbalist explained, even when stadiums are largely publicly financed and owned by municipal authorities, the franchises frequently receive a host of tax preferences and sweetheart lease deals. "And since [the teams] don't own the stadium," Zimbalist told me, "they don't have to pay property taxes." As Sports Illustrated's Jack Dickey wrote back in January: "An observer from outside the sports world could reasonably conclude that the NFL is in actuality a trade group for land barons."
The relocation policy specifies that Commissioner Roger Goodell "may recommend" an appropriate transfer fee to the league's full membership and its finance committee, but that it is then up to the membership to come up with a figure for the fee. The players? They don't factor into any of it at all:
This is also specifically spelled out in the CBA ("AR" refers to "all revenues" that are used to determine the annual salary cap):
This is how the league's owners developed a mechanism to bone three fanbases and enrich each other while keeping any of those proceeds from going to the players we actually pay to see. If nothing else, it's a consistent strategy.