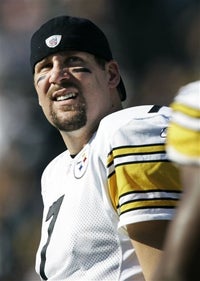 Notes From Week 8 Of The NFL ...
• So, yeah, kind of looks like Ben Roethlisberger is ready to wear a motorcycle helmet over his football helmet. Smaller Than Usual Ben was horrific yesterday, and the Steelers lost to ... the Raiders? Wha? We thought that only happened to the Buzzsaw. The Steelers are done for the year, and it would seem like coach Bill Cowher should at least consider giving Roethlisberger a few weeks off, before he contracts leprosy or something.
• It has been awfully quiet, with the spotlight (as they say) on several other teams, but if you haven't noticed, it's the 7-0 Colts at the 6-1 Patriots next week. We say this only to be the first to, because no one's going to shush about it for the next six days.
• One of the nice things about being in Mattoon over the past week was all the stories about Tony Romo, who went to local Eastern Illinois University and is considered a local hero. We're back in New York now, so we haven't seen today's paper, but we love how every reference includes the EIU connection. We expect every story about Terrell Owens from her until the end of time to mention "Owens, who once caught passes from EIU graduate Tony Romo."
• Yep: The Buzzsaw are who we thought they were. Jeez, is Denny Green still here?
• What's going on with the Eagles? We had them penciled in for an NFC Championship game with the Bears just a couple of weeks ago. What they really need is an attention-grabbing, insecure wide receiver. That would put them over the hump.
• The NFC West is the NL Central: Discuss. Does this mean the Super Bowl champ's gonna come out of there?
• This week's The Mighty MJD Smorgasbord quote: "Chad Johnson scores a touchdown... and he breaks out a little salsa dance, helping the NFL celebrate Hispanic Heritage Month. The Greek makes an argument later that the "Ocho Cinco" nickname is actually disrespectful to people of Hispanic heritage. Not intentionally, mind you... but is it such a big honor if you're butchering the language at the same time? The Greek asks, "Would it be good if someone did the same thing for Black History Month, and their number was 'Fo' Five'?"