News And Notes From Week 12 In The NFL...
• We remember when he was in college, Saints quarterback Drew Brees once threw 73 passes in a game. Afterwards, he said, "I could have thrown more. I wish I would have thrown more." Watching him lead the Saints to a potential playoff appearance is an absolute joy; his 349 yards and two touchdowns yesterday put New Orleans — New Orleans! — in prime position to win the NFC South. It doesn't help that the Falcons have spontaneously combusted, with Michael Vick flipping off fans (more on that later) and the Mora family fighting each other over his "coach-killing" abilities. We're pleased that the Saints are a winning team rather than an empty symbol of, uh, something. We also are expecting Reggie Bush to do something crazy in the playoffs.
• Hey, Pittsburgh, there's always the Pirates!
• Few reads give us more pleasure than the New York Daily News after a crushing Giants/Jets/Yankees/Mets/Knicks loss. It's like watching wolves fight over meat. Yesterday's Eli Manning implosion was particularly gruesome; if he falters again next week in a season-decider against the Cowboys ... hey, bring in Jared Lorenzen! Manning seems to have that permanent "San Diego drafted me" look on his face these days.
• The Patriots are starting to look like that team that won the first Super Bowl; not overwhelmingly talented, making the right move at just the right time, winning. Not that it matters much right now for the Bears, but screw Brian Griese: Who's got Orton fever?
• This week's fun at
G/O Media may get a commission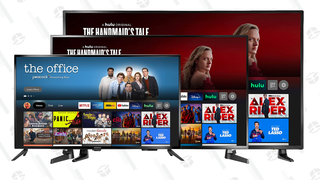 Up to 44% off
Prime Early Access - Insignia Fire TVs