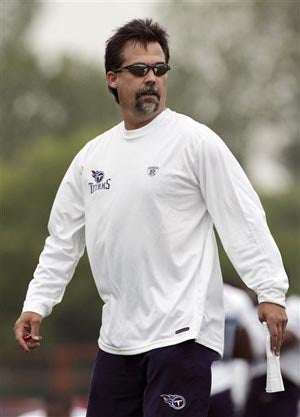 Believe it or not, folks, the NFL season is much closer than you can possibly imagine. So close, in fact, that, if we're going to fit in every NFL team preview by the start of the season, we have to go this early. So there you have it.
Last year, we asked some of our favorite writers to opine why Their Favorite Team Was Better Than Yours. Ultimately, we found this constrictive, and it also might have killed James Frey. So this time, we've just asked them to just run free, talk about their team, their experience as a fan, their hopes, their dreams, their desires for oral sex. All our teams are now assigned; if you sent us an email and we didn't get back to you, we're sorry, and we accept your scorn. But today: The Tennessee Titans.
Your author is Clay Travis, a columnist for CBS Sportsline and author of the incredibly entertaining new book Dixieland Delight, about a season of Southeastern Conference football. His words are after the jump.
———————————————-
Lost amidst the Vince Young hoopla last year was the fact that, outside of Young, the Tennessee Titans stunk worse than Chris Berman's ball sack at the end of NFL Primetime.
The top-three playmakers were Drew Bennett at one wide receiver, Bobby Wade at the other wide receiver and Travis Henry at running back. So impressed were the Titans with this triumvirate's performance that they let all three players leave via free agency. Despite having ample free agency money. Meaning Vince Young is officially weaponless and will have as much difficulty making plays as a pederast at a nursing home bingo game. So instead of worrying about unimportant parts of football like the entire defense, here's a breakdown of the Titans top offensive weapons by position.
Running Back
LenDale White: Here are words you are willing to see associated with your running back: felon, fast, tough, illiterate, suspended for violating the league's drug policy, domestic abuser, efficient whizzinator operator.
Here is the one word you don't want associated with your running back in any circumstance: fat.
Unfortunately LenDale White is fat. He sleeps with Kit Kats under his pillow and stores Hershey's Kisses (with almonds!) under his man boobs.
Chris Henry: In his entire collegiate career with the Pac-10's Arizona Wildcats Chris Henry ran for less than a thousand yards. Yep, in his four-year career. The Titans were so impressed by this performance that they took him with a second-round pick. Now they are seriously talking about making him the gunner on special teams coverage. Fellow Pac-10 tailback LenDale White reacted to this selection by saying he had never heard of Chris Henry. Then White said he would offer to split a king-size Reese's Pieces with Henry, but only if Henry rubbed his balls in pure honey and let LenDale lick them. It's all about the team. And after all, there's no I in teabag either.
Chris Brown: The Titans deactivated Chris Brown for 11 games last year because he has the physical toughness of a Kappa Kappa Gamma's hymen. Which is to say none. Despite choosing to deactivate a healthy Brown for almost 3/4ths of the season last year, the Titans resigned him for three-times the money they were paying him not to make the active roster once the off season arrived. Clever rascals. See, lots of teams have been making the mistake of actually paying players for, you know, actually playing. But then they get tired and bruised. This way Chris Brown only gets tired and bruised when female sponges are sold out at Walgreen's.
Wide Receiver
David Givens: Is currently walking with a cane. Seriously, a cane. Rumor has it that Titans officials are actually encouraging him to take up dogfighting to clear cap space.
Brandon Jones: Jones was the third best wide receiver on his college team, Oklahoma. He is the best receiver on the Titans by approximately 1,000 percent This should tell you all you need to know about the Titans wide receivers.
Roydell Williams: You know how I said Brandon Jones was the best wide receiver on the Titans by approximately 1,000 percent? Currently, Roydell Williams is starting ahead of him. Roydell, who in 14 games last year had eight catches. Yep...eight.
Courtney Roby: Amazingly, also starting at receiver. Basically the Titans reward production. Last year Roby had two catches in 12 games. But lest we be too critical, one of those was for a first down. Of course Pacman Jones caught the same number of passes on offense and four more on defense, but pointing this out would just be mean. And men named Courtney cry when you make fun of them because they have always secretly envied their missing X chromosome.
Paul Williams: While other teams like the Patriots were signing Randy Moss after giving up a 4th round draft pick, the Titans shrewdly waited until late in the third round to snag a player no one else really wanted. A player who wasn't even sure a year ago he wanted to play wide receiver. Word is a boastful Williams has promised that his rookie campaign will lead to his being twice the player Courtney Roby was in 2006. This comment was received with unvarnished glee in Nashville until everyone realized this meant Williams was projecting only four catches for himself.
Justin Gage: The Titans were so overwhelmed by Justin Gage's four catches in eight games last season for the Chicago Bears (a full .5 catches a game!) that they signed him to a free-agent contract after the Bears released him from their practice squad. They plan on him helping to replace the 79 catches Bennett and Wade took with them when they signed with other teams. This would be funny if it weren't actually true.
Eric Moulds: Perhaps aware that their wide receiving corps made several SEC wide receiver coaches cackle with glee (or perhaps aware that this profile was being written), the Titans signed Eric Moulds last Wednesday. My favorite thing about this signing is thinking about Eric Moulds looking at the roster of his wide-receiving competition. If Moulds didn't immediately make it rain on dem hos, then I want him tied, bound, and driven out of Nashville inside LenDale White's Little Debbie truck.
Tight End
Ben Troupe: When I talked to Troupe two years ago about wearing a dress in a Nutcracker performance he told me he owned several switchblades. This makes him by far the most dangerous Titan. So I think he's quite an impeccable young man with great manners.
Bo Scaife: Caught 29 passes last year. Unfortunately Vince Young's rookie year included an elementary school maneuver whereby he only threw to players like Scaife and Ahmard Hall because he was friends with them from Texas. Perhaps to protect against this occurring with opposing defensive backs, the Titans drafted Texas's Michael Griffin so Young could throw to him at practice as opposed to in games.
That's truly it. The entirety of the Titans playmakers. Consider yourself forewarned. Basically if you take any Titans offensive player other than Vince Young in a fantasy draft, you have the vision of Stuart Scott and you're probably going to take a picture of your cock like Sean Salisbury. Which, when you get right down to it, is sort of cool. I mean what woman doesn't love a nice cock picture? Especially if you liven it up with a couple of balls. That's class.