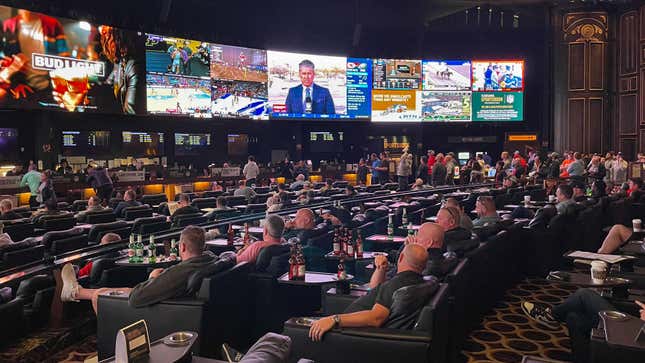 Five years after states won the right to regulate a sports betting market, American consumers are starting to get it. With sports shows adopting the language of wagering, and professional leagues partnering with fantasy and betting outfitters, those campaigns to "educate" a sports fan base where betting once took place at the margins have been incredibly successful.

Should the NFL relax its gambling policy? | Agree to Disagree
And, not surprisingly, the offseason press releases from the NFL announcing player suspensions are coming more frequently now.
NFL players are seeing suspensions for betting on the league
Today's announcement read: "Eyioma Uwazurike of the Denver Broncos has been suspended indefinitely for betting on NFL games in the 2022 season. Uwazurike will be eligible to petition for reinstatement no earlier than July 24, 2024."
In April, the NFL suspended five players for gambling-related infractions. And the suspensions keep coming.
Anyone could have seen this on the horizon.
There is a conflict between the approach to sports gambling internally and externally. The message sports leagues are facilitating to its fan base is that sports betting is another fun way to engage with teams and players. The message it sends to players is that it is completely off-limits — given that a player in the grips of gambling debts could affect the outcome of games, or swing the more incremental wagers within games.
Both of these things may be true, but this "Do As We Say, Not As We Do" approach must be highly confusing to people around the game these days. Pete Rose's MLB ban looks ridiculous in the face of the sports betting embrace.
More revenue at the cost of league credibility?
As a culture, sports are working with betting operators to exploit a new stream of revenue. It's capitalism. On college campuses everywhere, young, predominantly male sports fans have apps on their phones and are engaging with betting content. And fast-forward a few years, and that's the demographic that is playing in the NFL.
That's not to say that the risks to the game aren't high. They are stratospheric. We tend to take for granted in this country that sports are played on the up and up; that referees give yellow cards spontaneously and as warranted, and not because someone offered to give them $10,000 to make a side bet pay off.
That could all change quickly if players were betting on their own games. It might not all happen at once, but you can imagine a world where players could place an anonymous in untraceable currency and see a huge payout — simply by turning a catchable ball into an incompletion.
These leagues depend on credibility, so they have to enforce the rules. Pro Football Network has a breakdown of the rules, which go for all NFL personnel, not just players. Those at the NFL can't bet on football, bet while in an NFL facility, share info that would impact betting, or play fantasy.
It's a fine policy, but if it were truly enforced, how many people in the league would ultimately face suspension? Those who have been caught have been unsophisticated in the way they went about it. And you have to ask if this policy is consistent with the way the NFL presents these activities to fans. When you normalize sports betting as entertainment for a population, players are going to get that message as they catch passes under the banner of a daily fantasy website.
This happened not too long ago with marijuana. The larger culture was accepting marijuana use, and laws were changing to reflect that. But in the NFL, where some players found cannabis a helpful way to deal with discomfort, the rules were still enforced.
For a long time, there was a gray area, where a substance was technically against the rules while those rules weren't enforced. But now, you don't see those suspensions for marijuana across leagues, and in April the NBA announced it would no longer penalize marijuana use.
When behaviors are prevalent, and the rules are only situationally enforced when there are obvious infractions, it creates a confusing space. And that's where professional sports leagues are right now with gambling.
Our culture is undergoing some changes, where things that were taboo are becoming acceptable.
Professional leagues today are unable to send a consistent message to fans and players. They simply don't have one. And so Uwazurike won't be the last.