Here's the full NFL statement confirming the two-game suspension and fine of an additional game check for Ray Rice, for knocking his then-fiancée unconscious in a casino elevator. It is fucking ballsy.
It is phrased to make it seem as if crusader for justice Roger Goodell went above and beyond what was required to appropriately punish Rice.
Despite the court's decision not to impose criminal punishment, the Commissioner determined, as he advised Rice, that the conduct was incompatible with NFL policies and warranted disciplinary action.
The whole thing is full of tough language that reads as if the NFL truly threw the book at Rice. (Adam Schefter agrees!)
In a letter to Rice, Commissioner Goodell stated:

"As you acknowledged during our meeting, your conduct was unquestionably inconsistent with league polices and the standard of behavior required of everyone who is part of the NFL. The league is an entity that depends on integrity and in the confidence of the public and we simply cannot tolerate conduct that endangers others or reflects negatively on our game. This is particularly true with respect to domestic violence and other forms of violence against women."
G/O Media may get a commission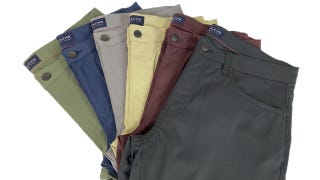 JACHS NY Fall Stretch Tech Pants
The NFL really, really wants your takeaway from today to be that the league does not tolerate domestic violence. It is a wonder the statement wasn't written in Newspeak.
[NFL.com]