Amid a weeks-long battle over Adrian Peterson's potential reinstatement, the NFL has decided to push the issue to its end game. The league announced today that Peterson will be suspended indefinitely and without pay—a punishment the NFLPA has already said it will appeal on his behalf.
The NFL's release on the suspension says Peterson will not be considered for reinstatement until April 15, 2015, at the earliest. In includes these quotes from Roger Goodell.
In a letter to Peterson, Commissioner Roger Goodell said, "The timing of your potential reinstatement will be based on the results of the counseling and treatment program set forth in this decision. Under this two-step approach, the precise length of the suspension will depend on your actions. We are prepared to put in place a program that can help you to succeed, but no program can succeed without your genuine and continuing engagement. You must commit yourself to your counseling and rehabilitative effort, properly care for your children, and have no further violations of law or league policy."

[...]

In his letter, Commissioner Goodell identified several aggravating circumstances present in this case:

"First, the injury was inflicted on a child who was only four years old. The difference in size and strength between you and the child is significant, and your actions clearly caused physical injury to the child. While an adult may have a number of options when confronted with abuse – to flee, to fight back, or to seek help from law enforcement – none of those options is realistically available to a four-year old child. Further, the injury inflicted on your son includes the emotional and psychological trauma to a young child who suffers criminal physical abuse at the hands of his father.

"Second, the repetitive use of a switch in this instance is the functional equivalent of a weapon, particularly in the hands of someone with the strength of an accomplished professional athlete.

"Third, you have shown no meaningful remorse for your conduct. When indicted, you acknowledged what you did but said that you would not 'eliminate whooping my kids' and defended your conduct in numerous published text messages to the child's mother. You also said that you felt 'very confident with my actions because I know my intent.' These comments raise the serious concern that you do not fully appreciate the seriousness of your conduct, or even worse, that you may feel free to engage in similar conduct in the future."
This has been—and is going to continue to be—exceedingly ugly. After Peterson's indictment on charges related to some pretty brutal abuse of his four-year-old son, and on the heels of the Ray Rice controversy the Vikings acted quickly in requesting that the NFL place Peterson on the little-used commissioner's exempt list. That allowed Minnesota to fill his roster spot while continuing to pay him, but it gave Roger Goodell's office full power over when or if Peterson would be reinstated.
Two weeks ago Peterson reached a deal that saw him plead no contest to a single misdemeanor count of reckless assault, and Peterson and the NFLPA thought that would be the end of it. But the NFL did not reinstate him despite the union's demands, and has shown no inclination of doing so. It would seem, in the absence of any other evidence, that Roger Goodell was content to let Peterson sit in limbo through the end of the season.
G/O Media may get a commission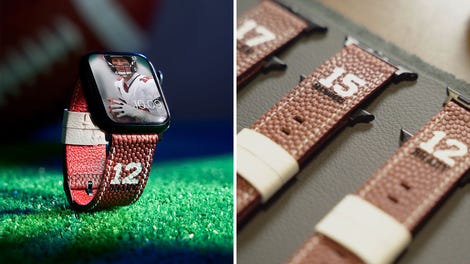 Official NFL PRODUCTS
Official NFL Apple Watch Bands
The players' union filed a grievance on Peterson's behalf, demanding his immediate reinstatement. After some false starts—Peterson skipped a hearing that he believed wasn't provided for in the CBA—the sides held a 30-minute conference call with an arbitrator yesterday. That arbitrator's decision was expected to come down as early as today. The NFL, it would appear, was unwilling to wait.
It's hard not to read this punish as the NFL attempting to cow Peterson—and other players—into submitting to the league's authority, which these days is looking pretty tenuous. From Goodell's letter to Peterson:
"A failure to cooperate and follow your plan will result in a lengthier suspension without pay."
If Peterson fights his suspension—through an appeal or a lawsuit—he runs the risk of his suspension continuing through next season.
After the NFL's announcement, the NFLPA sent out a statement indicating it will file an appeal of Peterson's suspension—and claiming that a league executive had promised Peterson that his time on the exempt list would constitute the whole of his punishment.
"The decision by the NFL to suspend Adrian Peterson is another example of the credibility gap that exists between the agreements they make and the actions they take. Since Adrian's legal matter was adjudicated, the NFL has ignored their obligations and attempted to impose a new and arbitrary disciplinary proceeding.

"The facts are that Adrian has asked for a meeting with Roger Goodell, the discipline imposed is inconsistent and an NFL executive told Adrian that his time on the Commissioner's list would be considered as time served."
The NFLPA calls for the appeal hearing to be overseen by an independent arbitrator. But the CBA mandates that Roger Goodell hear the appeal.