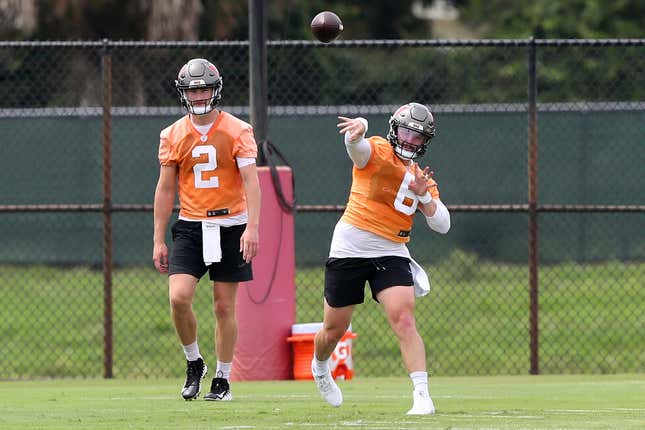 NFL content — we in sports media will scrape the entire margarine container to give sports fans just enough pigskin to butter their toast. In the age of social media, one of the best sources of extra flavor is practice clips. These days there is no need to wait until the afternoon sports segment on the local newscast for highlights. Feel free to view a bit of the Baker Mayfield and Kyle Trask battle to be the Tampa Bay Buccaneers QB1 at your leisure.
Did Tom Brady get scammed by crypto? | Ben McKenzie
Many television producers gave a Tiger Woods fist pump when they saw Mayfield and Trask throw back-to-back inaccurate passes. It certainly didn't make this sports writer feel sad. We are right back where we always find ourselves during the football offseason, judging something that cannot be reasonably evaluated until a few weeks into the regular season.

A couple of quarterbacks — one of whom is with his third team in less than a calendar year — have failed to put the ball directly into the pass catchers' palms the day after Memorial Day. In some minds, it is already time for the Buccaneers to derail the train and roll it right next to likely 2024 No. 1 overall NFL Draft pick Caleb Williams.

At least Mayfield and Trask made it to the unofficial start of summer before some poor play went viral. Tua Tagovailoa was pilloried for a pass that he completed. Tagovailoa underthrew Tyreek Hill — possibly the fastest player in the NFL — two weeks after the NFL Draft concluded.

That video was not recorded by a news organization, it was released by the Miami Dolphins' social media team. They forgot that one of the most criticized aspects of Tagovailoa's game is his arm strength. The player who the organization guaranteed $72.2 million having to reach back to haul in a pass was not the way to try and hype up South Florida.

OTAs are the time for QBs like Mayfield, Trask to shake off the rust
The Buccaneers had the decency to at least let outside media release unbecoming footage as these two quarterbacks get used to a new offense and personnel. May is the ideal time of year for Trask, Mayfield, Tagovailoa, or any quarterback to have rough practice throws. Fans aren't even allowed to attend practices until training camp begins in late July. There is plenty of time for the quarterbacks to get into a rhythm that will have the fans cheering as they watch the unfinished product look more competent.

Unless those fans didn't have confidence once they realized that Trask and Mayfield are the two players competing to be Tom Brady's successor. Buccaneers fans may feel some empathy for Logan Roy as they look at the future of their beloved organization. Entering the season with that lack of faith is how quick video clips from OTAs can have fans clutching 6x9 frames of Brady with tears in their eyes.

Those poor passes from Mayfield and Trask have no impact on the 2023 NFL regular season. However, those throws will weigh in the minds of Buccaneers fans and haters, bringing distress to the former and hope for the latter.

This Mayfield and Trask video is only the beginning. We in sports media are going to keep scraping our butter knives against the edges of the margarine container as we give sports fans just enough flavor to carry them through the dog days of summer.

We'll grab a fresh one come late August, but until then your toast will be just satisfying enough to get you through another meal.