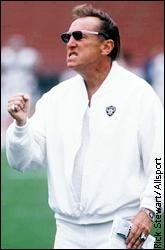 • Colts 34, Broncos 31. If the Colts weren't the class of the AFC before this week, they certainly are now. They went into Mile High against a nearly impenetrable defense, hung 34 points on them, and got the win on the foot of Adam Vinatieri. No one else has come close to being able to do that to Denver... and the Colts just went in there and did what they do. Peyton Manning threw for 345 yards and three touchdowns, and Reggie Wayne caught ten balls for 138 yards and three touchdowns.
• Raiders 20, Steelers 13. Despite outgaining them by over 200 yards, the Steelers managed to lose to the Raiders, who—and this is weird—are on a winning streak. Four Ben Roethlisberger interceptions did it, including one at the goal line that went for a Raiders touchdown. The Raiders and Steelers now have identical records, which is sort of mind-blowing. Game winning QB Andrew Walter was 5-of-14 for 51 yards.
• Chargers 38, Rams 24. LaDainian Tomlinson ran for 183 yards and two touchdowns, along with 57 yards receiving and another touchdown. Shawne Merriman tied a career high with three sacks, and I heard the words "steroids" and "roid rage" after every one of them. I have a feeling that's going to become a trend for me.