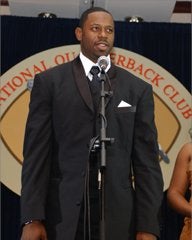 • Eagles 36, Giants 22. There are still over 2:00 to play, but an Eli Manning tipped ball was intercepted by the Eagles and taken to the house. That should do it, but the way things have gone in this game, though, I wouldn't rule anything out. I'll be happy to see it end, though, as I'm getting tired of looking at the bizarre, bloody, red, disgusting mass on Jeff Garcia's hand.
• Broncos 37, Cardinals 20. The Cardinals kinda kept scoring in the second half so that the game was never really completely out of question until they end. But they never honestly threatened, either. I hate games like that. Jay Cutler's 21-of-30 for 2 touchdowns and one interception with a couple of minutes to play. Matt Leinart was 13-of-25 for 146 yards and 2 interceptions, one of which was a backpedaling prayer which he just heaved into the middle of the Broncos secondary.
• Rams 20, Saints 0. Art Shell has had roughly 4,872 opportunities this year in which he'd have been perfectly justified in benching Aaron Brooks. He picked today. Since then, Andrew Walter's stepped in and gone 8-of-12 for 70 yards, which isn't half bad... until you consider the 2 interceptions. Oh, and the Rams beat their ass, in case that wasn't implied. Steven Jackson's been the stud of the game with 127 yards and 2 TDs.