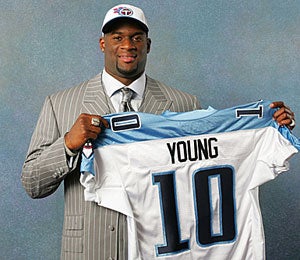 • Cowboys @ Titans. In one game, we've got the NFL starting debut of Vince Young, and the possible appearance of a guy who may or may have made an effort to feel the sweet release of death earlier in the week. How much more could you possibly need? When the Titans made the announcement, I wonder if they said specifically, "Vince Young is starting," or if they just announced, "There's no way in hell we're letting Kerry Collins start another game. Who's starting instead? I dunno, probably that fast guy from Texas."
• Chargers @ Ravens. It's going to be a little bittersweet for me when this game kicks off, because not only is Terrence "Purple Drank" Kiel going to miss the game for the Chargers, so is his expected replacement Bhawoh Jue. It's one of my favorite things in the world to yell "Mazel Tov" when Jue makes a play. But he had knee surgery this week, Kiel is busy doin' that Shoulder Lean. It remains an intriguing game, though, matching two teams with perfect that records that haven't really beaten anyone yet. Steve McNair, meet Shawne Merriman. Phil Rivers, meet Ray Lewis.
• Patriots @ Bengals. It's Carson Palmer against Tom Brady, but unfortunately for the Patriots, it's also Chad Johnson, T.J. Houshmandzadeh, and Chris "Window Vomit" Henry vs. Reche Caldwell, Troy Brown, and Doug Gabriel. I don't see any way that the Bengals wideouts don't absolutely abuse the New England secondary. My guess is that this game is not going to be close.
• Saints @ Panthers. I would not have guessed that Carolina would be the team coming into this game 1-2, nor would I have guessed that the Saints would be coming in at 3-0. Unfortunately for the Saints, they have to prove that their win on Monday wasn't all about emotion and inspiration, but rather about an actual quality football team.