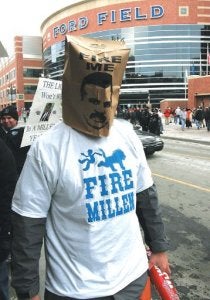 • Texans 21, Colts 14. The latest running back to beat up the Colts defense... ladies and gentlemen, Ron Dayne. Dayne has 88 yards and two touchdowns in the first half, and the Texans lead the Colts, 21-14. Manning's been sharp, Addai's been productive, and Marvin is Marvin... but none of it matters. You could put Emmanuel Lewis in the opposing backfield, and he'd go for 110 and a touchdown.
• Ravens 14, Steelers 7. If you can watch the second half of this game, I think you should... Joey Porter's in a fighting mood. Jamal Lewis gave him a little extra after a play earlier, and Porter had to be (or at least, wanted to look like he had to be) restrained. Benjamin Roethlisberger's been sacked four times in the first half... and there are hurt feelings all over the place in this one. It doesn't feel very Christmas-y.
• Bears 17, Lions 7. Yeah... nothing happened. I kept waiting for a crowd shot of masses of people heading for the exits, and it just never came. As it turns out, people don't seem excited to give up $80 tickets for the sake of making a point about which no one will give a damn. The Bears lead by 10, and Rex Grossman got 160 yards and a touchdown.