Who says characterless arenas don't have home field advantage? Thanks to lasers and "lost" replays, Vancouver and Pittsburgh have been able to get a leg up on the competition
Let's take you to GM place Saturday, where the Canucks were hosting the Flames with first in the Northwest Division on the line. Calgary goalie Miikka Kiprusoff made 19 saves, many of them with a laser pointer shining in his face. The Flames requested that a PA announcement be made and the perpetrator be located, but neither was done.
It was going on all night," said [coach Brent] Sutter. "It was brought to the attention of the refs and security, and it's hard to believe that can go on for 60 minutes in a hockey game and it's not located and not found."
Reportedly security narrowed down the section the green laser was coming from, but fans were either unable or unwilling to rat out the source. "Stop Snitching" has apparently made its way from Baltimore all the way to the Pacific Northwest.
Let's go back even further, to the Mellon Arena last Thursday. The Flyers' Simon Gagne appeared to score a shorthanded goal in the second period that Penguins goalie Brent Johnson flung out of the crease just after crossing the line. But it was ruled no-goal on the ice, and none of the replays were conclusive
G/O Media may get a commission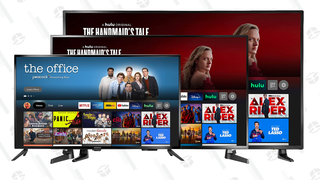 Up to 44% off
Prime Early Access - Insignia Fire TVs
Now, it turns out the replays were all from FSN's feed, who were broadcasting the game in Pittsburgh. The Flyers broadcast didn't have a crew of its own at the game, and NHL officials in Toronto rely on the TV replays.
So it was ruled no goal, and immediately after FSN showed a replay in which the puck clearly crossed the line. They then sent that footage to Toronto. Was FSN holding back on showing that angle? If so, it worked:
At that point, the ruling was permanent," said John Dellapina, an NHL executive.
There's a happy ending, for those of you who believe in karma. Both Vancouver and Pittsburgh ended up losing their games.
More on the green laser pointer [Canucks Hockey Blog]
NHL says video on Gagne sent too late [Philly Inquirer]