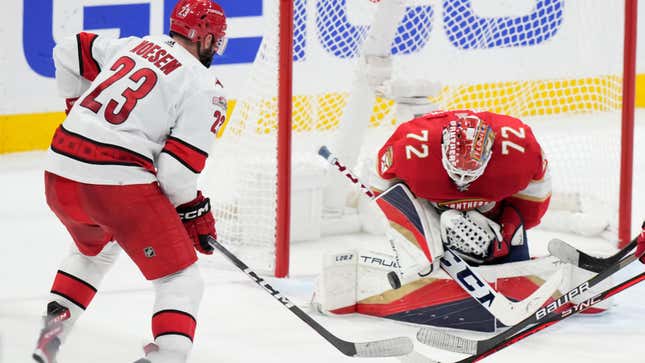 For the fourth straight season (we'll throw out the 2020 playoffs because…well c'mon), and every season under coach Rod Brind'Amour, the Hurricanes look pretty damn unlikely to make the most of a stellar regular season campaign. In fact, they look likely to not win a game beyond the second round, as has been their way. Perhaps they can manage a gentleman's sweep. They don't hang banners for that though (unless you're Nashville). Regular season division titles feel good at first, but pretty quickly are just a mere stepping stone to what's supposed to come next. They have been the escalator to nowhere for the Canes, though.
Can the Florida Panthers make a comeback? | Agree to Disagree
The Canes will rue their luck. They hit the post three times in Game 3. They had most of the puck, running up a 70+ percent share of attempts and expected goals. Sergei Bobrovsky is playing at a ridiculously high level. Hockey can be cruel for reasons it never explains, or even finds. That's what the Canes will tell themselves when they break out the golf clubs, at least.
But here's a strange note. Sergei Bobrovsky is running a .981 save percentage this series. Last year, when the Canes lost in seven to the New York Rangers, Igor Shesterkin put up a .949 with the Canes only managing 13 even-strength goals over the series. In 2021, when they got clubbed by the Lightning in five games, Andrei Vasilevskiy ran a .940. In 2019, when the Bruins had their chance to kick the Canes' ass back into the closet with a whoosh, Tuukka Rask ran up a .956 save percentage.
Strange, no?
It gets stranger when you look at the opposing numbers the Canes goalies put up. When Rask was dunking their head in the toilet, Curtis McElhinney and Petr Mrazek combined for a .857. When Vasilevskiy was swatting them away like they were mere gnats, Alex Nedeljkovic and Mrazek totaled up a .895. Last year as the Rangers were putting them to the sword, Antti Raanta put up a respectable enough .917, but Pyotr Kochetkov got lit up twice he registered a .792 (!).
That doesn't explain it all, or this year especially, as Raanta and Frederik Andersen have been fine or fine-plus. So there's something more.
Well, this might do most of the explaining.
While Bobrovsky has been great, the Canes make it easy to be great. Look at the chart. Everything is from the points. Nothing is coming from in front or from the circles, where teams generally get their shots when they're making a goalie move from side to side to open things up. This has been the story every season. It's not that the Canes didn't get some great chances, because they did, and Bob simply had the answers. But they're not getting enough of them, and worse yet, they don't seem to ever have the answers on how to get them. Their style is to get the puck deep, win it, get it to the points, and fire away. It works October-March because they're so dedicated to working so hard. It's no secret why they surge in the doldrums of January and February (15-3 from Jan. 19 to March 9 this season, 12-3-2 in the same period last season) because most other teams run out of fucks to give then. But their exceptional effort matters far less in the playoffs when everyone's doing it.
They pile up the attempts, sure, but those kinds of attempts just seem to get a goalie into a rhythm. At least that's what it feels like. The style the Canes play keeps the margins pretty tight, which means they're banking on their run-of-the-mill goalies, and their not quite 1A stars to finish or save one more chance than the other guys. They don't get out on the rush, they don't try anything new.
It could also be argued that the Canes simply don't have the killers to punch through a goalie playing as well as Bobrovsky is or as well as the others have in previous seasons. Sebastian Aho had a great Game 3, with four or five prime scoring chances. But he didn't score. It's awfully harsh to criticize a player when he's getting the chances. Sometimes your luck is out. And yet the Canes' and Aho's luck always seems to be out, and he's the No. 1 center. Sure, Andrei Svechnikov is out, and this series has been so tight he very well might have made a difference. Then again, the Panthers were without Sasha Barkov for basically all of Game 3, and they still found a way. Always helps when Brent Burns is hellbent on losing Matthew Tkachuk in coverage to open up everything. Here you can watch him needlessly chase Sam Bennett behind the net while getting nowhere near and opening up a passing lane for Tkachuk to Sam Reinhart:

The Canes' attack is almost entirely through their blue line, but that doesn't play through a whole playoff run. Last year, no Cane other than Vincent Trochek had more than two goals against the Rangers, and he's gone. Two years ago no one had more than one goal in five games against the Bolts. Same story in 2019.
The Canes have tried to huff the old hockey axiom that it's the ultimate team game, and a team has simply roll four lines without much dropoff. But it's hard to maintain depth in a salary-cap league without sacrificing something. The Canes have sacrificed true sharpness at both ends for their precious depth. And they keep eating it to teams that get inspirational performances in net and with someone with playoff flair scoring against them.
It's not easy to find those players, but if the Canes want to do more than be cannon fodder in rounds two or three, they'd better figure it out.
This Nikola Jokic shot encapsulates the Nuggets-Lakers series
I wouldn't imagine that it's often you can encapsulate an entire series in the NBA playoffs in one shot, but Nikola Jokic isn't really concerned with what's normal:
While LeBron James could summon his old self for the first half to try and be defiant against a sweep, it clearly took just about everything out of him as he spent most of the second half watching or settling or limping. And Jokic simply provides too much for too many teammates. This shot is just how powerless the Lakers were to do anything about it all series, and as soon as it went in you could sense that the whole arena knew they were boned. Sometimes, that DUDE is just too powerful to plan for or counter.
Dodgers reverse course, re-invite Pride Night guest
Nice to know that shaming can work both ways sometimes:
While it's still sad that the Dodgers had to be coerced into doing this, at least they got there. Maybe the added attention will be a bigger bullhorn for the Sisters' overall message and cause. There certainly will be louder voices in protest both onsite at Dodger Stadium and online, you can be sure. But any victory tolerance and acceptance gets is worth noting.
---
Follow Sam on Twitter @Felsgate.