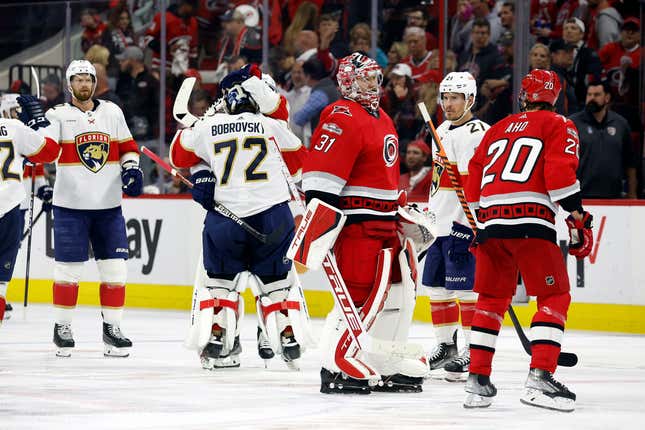 You know that NHL playoff game that ended right before 2 a.m. Eastern? The one where Carolina and Florida still looked composed after nearly 140 minutes on the Raleigh ice and a Matthew Tkachuk goal with 12.7 seconds left in the fourth overtime, saving those brave souls who didn't pass out from more misery? Yeah! Ready? It never should've gone past the first three minutes of overtime. Ryan Lomberg's goal in the 63rd minute of the game never should've come off the board for goaltender interference.
What can make the NHL more exciting?
In the clip above, Florida's Colin White goes charging toward the net after a Hurricanes' turnover in their defensive zone. In a battle for positioning, Carolina's Jack Drury pushes White into Frederik Andersen's crease. The right skate of Andersen and White's left foot make contact, which sends the Carolina netminder out of position, but what about defending your net? And White makes the snow-shoveling motion with his skates, trying to avoid contact at all costs with the goaltender. Drury has planted himself firmly right in front of the blue ice and he's allowed to have that position, but he clearly leaned White into his own goaltender. With Andersen out of position, Lomberg puts the shot on net and it crosses the goal line easily.
Indisputable video evidence is said to be needed to overturn what the original call was on the ice and the switch from goal to not, causing 77 more minutes of hockey. The on-ice officials either admitted they were idiots by missing clear contact in the crease, or they made a correct instinct call wrong by letting the control room in Toronto take over. White obviously knows the rules of hockey and an unimpeded path to make contact with the goalie will deservedly have the goal waived off. Drury made it so this play was murky, and because of the lack of clarity on the ice and the same appearing on video, overturning the call screams trying to have a decisive winner, if not more claims the NHL is rigged.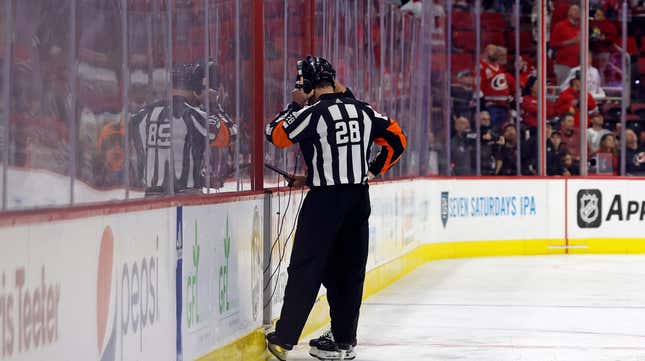 Trying to give a resurgent Hurricanes' fan base a trip to the Stanley Cup Final over a Florida team that was dead in the water a few weeks back, down 3-1 in the first round against President's Trophy winners Boston appeared to be the driving force behind the decision. Actual hockey smarts would say otherwise and lead to the sixth-longest game in NHL history. It finished around six hours after puck drop, around the same time as an NFL booth review. And the NHL expects everyone who just played the equivalent of 2 1/3 games to do it again Saturday night. And it was completely unnecessary.