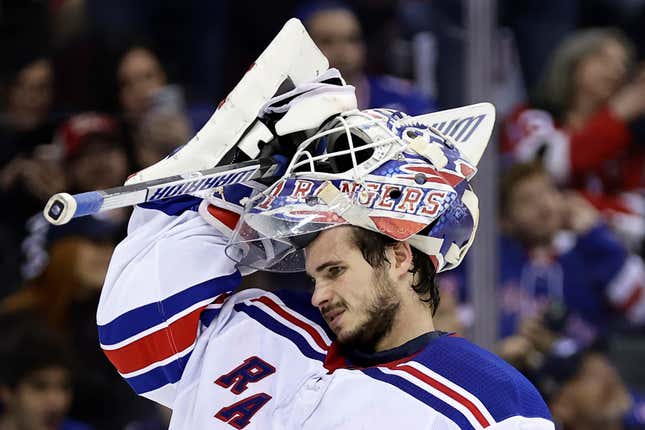 It's important to review recent New York Rangers history to know why they ended up with a handful of their own dicks in the first round, to a New Jersey Devils team that is far more equipped for what wins in the NHL these days. Two years ago, James Dolan took a break from his normal paint-huffing routine to climb down what assuredly is a staircase covered in gold and marble to declare that the Rangers rebuild, overseen by John Davidson and Jeff Gorton, was for weaklings, essentially. And that it wasn't moving fast enough. You can be sure the word "pussies" was uttered in those meetings, given where the team went next.
Are the Oakland A's a failed state? | Agree to Disagree
So everyone was fired, Dolan declared that the Rangers had to be big, tough, and mean. They hired Gerard Gallant, who specializes in turning players into hair-triggered, puck-ignorant missiles (case in point: Trouba, Jacob), as coach. They traded for Ryan Reaves, whose 27 career goals over seven seasons still exceeds his collection of brain cells. Reaves didn't even last through a second season on Broadway. They traded Pavel Buchnevich (who has gone on to collect 143 points in two seasons for some piss-poor Blues teams) for Sammy Blais, who has the hands of a backhoe, and they were so impressed with him they sent him back to St. Louis after 54 games as a Ranger. Dolan had them live up to their glitzy locale by signing Artemi Panarin the year before all this. He has three even-strength playoff goals in 27 playoff games the past two years.
New York has put up gaudy regular season standings points
The Rangers have put up gaudy regular season standings points the past two years, but as the Boston Bruins just got finished proving, the standings aren't worth much anymore. They tell us basically who might be good and who probably sucks, and too many other details beyond that. The Rangers have borderline sucked at even-strength both this year and last, and have power play'd and goalie'd their way to 100+ point seasons. You can power play-and-goalie your way through 82 games, and maybe even a couple of rounds in the playoffs if the Penguins have two goalies get hurt and Trouba is also allowed to decapitate the other team's best players, as he was with Sidney Crosby last year. He couldn't catch Jack Hughes this time around.
The Rangers were 17th this year in Corsi percentage, and 19th in expected goals percentage. They were 24th in both categories last season. Last year it was Chris Kreider scoring with a quarter of his shots on the power play and Igor Shesterkin's Vezina season that covered up all their faults. This year it was Mika Zibanejad and Shesterkin. You can fool some of the people some of the time, but there comes a time when you have to win games at 5-on-5. The Rangers are decidedly unequipped.
All that glitters…
It's true that the rebuild wasn't really going to work because their two top-two picks, Alex Lafreniere and Kaapo Kakko, blow chunks. Rangers fans and media alike keep trying to convince themselves that they're a great energy line now in some sort of public-facing Stockholm Syndrome, and yet they continually get their asses kicked up to their ears when faced with any kind of opposition. Zibanejad is a good player, but he's no No. 1 center. Take a look at what Hughes did in this series to see the difference.
But these were the Rangers, this is New York, this is Dolan, and instead of addressing their real concerns of depth scoring on the bottom six or finding any d-man that could skate with the puck over 3 MPH, they chased big names to put on the marquee. Vladimir Tarasenko's body has been breaking down for a few years, but the Rangers thought they could revive him. Patrick Kane spent the first four months of this season looking like his bones had turned to the consistency of milk left out in the sun for a month, had one good week, and they thought they could bring "Showtime" to the Garden. That went so well that they had to kick Kane off the first power play unit during their series with the Devils and watched him eschew any battle for a puck unless they were already up three goals.
Speed kills
It was striking just how second-best, and more importantly, slower the Rangers were all over the ice once the Devils stopped just donating them power plays as they came to grips with playoff hockey. In Games 3-7 the Devils' expected-goals shares at even strength were 58.3, 70.2, 55.5, 52.7, and 69.1. That's getting one's ass rubbed in the moonshine violently.
Whatever the Devils wanted to do, they could do. When they wanted to strangle the Rangers defensively and dare them to work through the neutral zone, they didn't have any puck carriers to do it or didn't have the forecheckers to short-circuit it by winning the puck back below the goal line. When the Devils wanted to turn up the volume and pressure the Rangers in their own zone into turnovers and cause chaos in the Rangers' zone, they could do that too. In Game 7, Adam Fox was determined to prove he's just another phrase for "Torey Krug," a power play specialist who's great if you can get him set up in the offensive zone first but is in bad need of an after-school tutor in his own zone. Here's Ondrej Palat turning him into a fine paste to open the scoring last night:
The rest of the Rangers' blue line was completely unarmed to deal with what the Devils were bringing to them, because they are slow and stone-handed. Here's Trouba losing a puck battle badly in while pinching up, with a little help from Kakko as Palat once again plays them like a bass drum to start the rush to the Devils third and killer goal:
K'Andre Miller looked slow. Trouba's main trick of braining some opponent came far too late to make a difference. Niko Mikkola looked exactly like the type of player the Blues felt they didn't need anymore.
Rangers aren't getting any younger
The Rangers will still hang around for a couple more years. They have a little cap space — about $10 million — and an extension for Miller might eat up a decent chunk of that. They're not exactly young. Of all their important players, only Fox, Chytil, and Miller are young, and whatever they want to do this summer will have to keep in mind an extension for Shesterkin that isn't too far over the hill. How much better can they get? They also just saw what they are against the new rising power in the division, one rife with players under 25, who have a much bigger runway for improvement and $24 million more in cap space.
The Rangers, as all Dolan's teams seem to be, were built with an ancient and archaic vision of what the game should be and how you win. While Trouba's hits and Gallant's faces and bitching to the refs may act as a form of discount Viagra to Dolan and any Rangers fan over 50, they just got a face-full of what the game looks like now, and they were miles behind it. Oh, and Connor Bedard might land in the division soon.
This is what happens when you let a loose cannon of an owner come down and tell you what he thinks the score is. The Rangers have been a shell of a good team for two seasons, and the Devils just showed the world how there are no insides beyond that shell.
---
Follow Sam on Twitter @Felsgate for more hockey thoughts that involve Rick Vaive.