How was your weekend? I got myself a nice bowl of pasta but some new mosquito bites. Nick Kyrgios, too, had both good and bad times.

Here's a taste of what he was up to on Saturday in his China Open semifinal:
Not to put it in overly technical terms, but this is well, freaking disgusting. Gross, unseemly even. Peep the radar readout up on the upper left: 209 km/h, or, to spare you the conversion, a 130 mph screamer right to the body. That's no softball. You hit that first serve and are probably feeling reasonably good about yourself. Zverev is in mid-air when he cracks that one, his 6-foot-6 freak wingspan splayed out along the vertical, and as he returns to earth and settles back onto the balls of his feet, he cannot possibly be expecting anything too fierce in reply.
But something spooky is happening across the net. Nick Kyrgios has willfully misinterpreted this massive first serve as a dinky second serve. He is staging a sneak attack. He is doing his best impression of Roger Federer picking apart a second-round Wimbledon chump. Kyrgios stares down a serve that is hard to return cleanly in any way, and chooses to return it in the most casual imaginable way—scraping it off the bounce. He blithely half-volleys it back to his opponent's feet, sets Zverev to scrambling, then volleys one down the middle of the court. Here Zverev misses his decent chance to pass—probably because he's still trying to figure out what exactly the hell is going on here—and Kyrgios knocks a perfect volley off the court. It's all over in roughly four seconds, a painless coup. It's also one of the dozen filthiest things to happen on a tennis court in 2017.
Thus far in his career, return of serve has looked like the weakest aspect of Nick Kyrgios's well-rounded game—winning just 18.8 percent of return games over the last year, good for 68th on tour, he's sandwiched between such luminaries as Jan-Lennard Struff and Ryan Harrison—but the problem clearly does not lie in his stupidly soft hands or his squirrelly reflexes. (The problem is maybe that it's hard to feel too much of a fire under your bum when you're winning 88 percent of your service games, good for eighth on tour; or, more generally, when you're hankering for a tasty milkshake.) But Kyrgios, in a nice headspace, singing mildly along with the music on changeovers, found his breaks of serve to win this semifinal 6-3, 7-5, solidifying a 3-1 head-to-head against the player most consistently hailed as the tennis messiah.
G/O Media may get a commission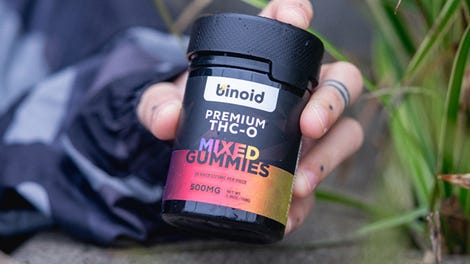 25% Off + Free Shipping
Binoid THC-O Gummies
This boded well for his matchup against Rafael Nadal in the final, no? Kyrgios and Nadal had split the year's previous meetings 1-1: In Madrid, Rafa pulverized Nick right into his preferred red dirt, and in Cincinnati Nick notched the coldest win of his season. Based on the Zverev match, it seemed reasonable to expect something closer to the latter.
But, you see, if you're a Nick Kyrgios follower and you're still setting "expectations," you're doing this wrong. This isn't simple meteorology shit. Don't think weatherman in a shiny suit confidently projecting conditions for the week ahead—think tornado-watcher in 1907 standing slack-jawed in a flat dusty plain. You might say you're watching nice tennis but basically you're just waiting for, and often dreading, the Moment. By now you know what to look for. You know it well when you see it: the point of no return. You can see the leaves kicking up. Once it happens, it's impossible to expect any return to normalcy, or competency: from then on it's all a swirl of ump-kvetching, frenetic head-shaking (even after points won), double faults and spiked rackets, moo cows spiraling in the sky.
Anyway here's the Moment. It came depressingly early, in the very first game of the match:
He got himself a break point in game one, had Rafa struggling to retrieve a deep crosscourt backhand, only to be robbed by a wrong call (on an admittedly very close ball). That sent him shouting, not just then, but at every juncture after, too. Nick was looking good, and even for a little after, but never really restabilized. Aside from nice points here and there, he psychologically tornadoed through two sets—
—while Rafa, unrelenting as ever, fed him a 6-2, 6-1 loss, including two breaks of serve in that second set versus one of the best servers living. On return Nadal tended to park himself in the front row of the stands, as is his exaggerated habit against big serves, and bully the tantrum child around the court.

Playing out counterfactuals feels silly but it sure seems like Nick would've been far better off hitting that break point backhand six feet out. As he would tersely put it in the Aussie version of The Players' Tribune:

I lost a bit of composure after a rough line call in the first game of the match and never really recovered. People will have their own opinions on how the final went down but, for the most part, I was satisfied with the week and happy to qualify for my second final of 2017.
"Never really recovered" is an honest diagnosis, at least. I've been around toddlers enough to recognize the first stirrings of something awful. Something has upset them and they'll ready to re-litigate it cyclically, until there's no energy left in store and it's time for a nap, but until then, that any of the order you hoped to maintain is now hopelessly lost. Sure you wish you could rewind and avoid all this altogether, but the fault, of course, doesn't really lie with the linesman, or the Lego that got stepped on.
All that said, shoutout to Rafa. Seventy-fifth title of his career. An outrageous season surges on. Hopefully soon the kids will figure out how to put up a better fight.