Depending on your point of view, Nick Swisher is either a lovable team mascot or the worst. It's all a matter of team loyalties. To his credit, Swisher doesn't seem to care either way. Swish just does Swish.
He's an Ohio State guy and since joining the Indians Swisher has incorporated some state-specific celebrations to his repertoire. In the picture above (from Saturday), he's celebrating a homerun with som O-H hand signals.
He did it again tonight and, actually, he was pretty active all game. For the Cleveland-folk, here is loveable goofball-teammate Nick Swisher celebrating a Carlos Santana homerun.
For most everyone else, here's a guy...doing something.
G/O Media may get a commission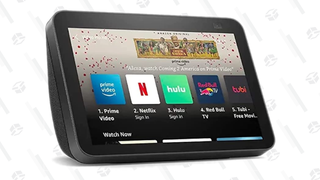 Photo Credit: Getty
Animated: Nick Swisher celebrates… a lot [Waiting For Next Year]