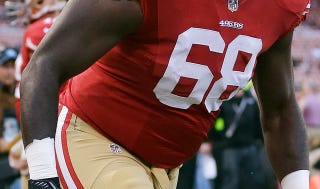 It's got to be tough for NFL offensive linemen, whose entire vocation, at least more than any other position on the field, is dependent on how much they weigh. If you're skinny, you won't ever be an offensive lineman. It's their duty to stay as large as possible, for the sake of their livelihood. Problem is, Nike introduced these snazzy new unis this season, and it seems they just don't have that same fit and comfort as the old duds did.
The Wall Street Journal has more, including comment from several disgruntled players:
"I don't really care for the new jerseys," said Baltimore Ravens defensive lineman Terrence Cody, who is 349 pounds and 6 feet 4. "I feel like they should put different material in for the big guys."

[49ers guard Alex] Boone, who complains that his stomach hangs out the bottom of the jersey, said it makes him feel self-conscious. "It makes me look fat," he said, "and I'm not fat."

When Boone's wife first saw him in the new garb, he reports, "she said, 'It looks like you ate a small baby.'"

Tight jerseys are all the fashion in some sports. How better to show off the sculpted physiques of NBA players? In swimming and soccer, clothiers go so far as to claim (with limited evidence) that form-fitting unis enhance performance. Adidas, for instance, said its tight Chelsea jersey "stabilizes and focuses the muscles' energy."

...

Some players, however, think the problem may be one of vanity. Ramon Harewood, a 334-pound Baltimore lineman, said that the new jersey fits him fine and that the complainers are those who "like to look pretty" and be "swagged up."

"They say you have to look good to play good—I don't believe that," said Harewood.
When reached for comment, Every NFL Quarterback was quoted as saying, "Just keep me the hell off the ground, please? OK? Great, thanks."