The NBA's Western Conference is a tangle: the third-seed Spurs are ahead of the 10th-seed Jazz by just 4.5 games; those Spurs have managed to win just three of their last 10 games, and while they've been swirling in rare drama having to do with Kawhi Leonard's injury status, those Jazz have won nine of 10; the ninth-seed Clippers have won seven of 10; the eighth-seed Pelicans have won four in a row. The West is tight, and tightening.
The best sports movies according to Toheeb Jimoh
It's genuinely a bummer that two of the top ten teams in the West are going to miss the playoffs. I like all of them, and they're all interesting, for one reason or another. Before you launch into another unbalanced conferences diatribe, know that this is the rare season when both conferences are deep in legitimate playoff contenders—the real issue is both conferences are thin in championship contenders, and both conferences are deep in tanking bottom-feeders, two circumstances which have conspired to bloat the NBA's middle class.
Caught up in that mass of 45-win-ish teams in the West are the Denver Nuggets, winners of four straight after they took out the Spurs Friday night, 122-119. The Nuggets are so much fun: Jamal Murray is steadily developing into an ultra-telegenic, off-the-bounce, inside-outside offensive dynamo; Will Barton is an electrifying sixth man; and, of course, Nikola Jokic is the best passing big man in basketball. And Jokic, for his part, is truly on one right now—last night he notched his third consecutive triple-double to lead the Nuggets over the Spurs:
Jokis is averaging 27 points, 13 rebounds, and 13 assists over that span, on truly ridiculous 64/62/83 shooting splits. Normally a given three-game hot streak isn't especially worth your attention, except in this case the competition for playoff spots in the West makes every three game stretch absolutely crucial. And those three consecutive triple-doubles have come against playoff teams: the Spurs twice, sandwiched around a road win over the Milwaukee Bucks. Jokic's heroics are coming during a stretch when the teams behind the Nuggets in the standings are all surging, and they've helped keep the Nuggets in their precarious spot as the conference's sixth seed.
G/O Media may get a commission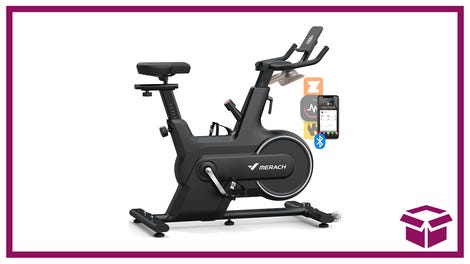 14% off + Coupon
Merach Indoor Cycling Bike
Like any good Jokic highlight reel, this one shows his delightfully lead-footed brilliance: rumbling grab-and-go breaks; high-arcing pick-and-pop jumpers; pinpoint passes from the elbow; the precise footwork of the world's slowest ballerina inside. I am particularly fond of the drive in the third quarter (about 1:55 in the video) when Jokic slid to an open spot on the arc, beat a hasty LaMarcus Aldridge close-out, and lofted in a ridiculous floater over two helping defenders. The man has no ups! He's got the skill package of a veteran guard, like a late-career Jason Kidd, but in the body of a lumbering seven-footer. I can't get enough of it.
The Nuggets have two important things coming up that will determine the shape of the rest of their season: a seven-game road trip in late March that will see them facing five playoff contenders in 11 days; and the eventual return of Paul Millsap, who hasn't played since November 19 after tearing a ligament in his wrist, but who recently started practicing again. Absolutely every single game between now and the end of the season will be crucial for seeding, and adding a player like Millsap to the rotation will take some careful management. But they're banking important wins now, and doing it behind a remarkable surge from their wonderful big man. The NBA needs to find a way to put these guys in the playoffs.