On the left, it's CC Sabathia. On the right, it's Brett Myers. The Phillies want that delicious 2-0 lead in the NLDS, and the Brewers want to go back to Milwaukee with at least one game dominated by hops and barley. She's jump, she's jump, she's jump, she's in my head. * * *Top 9th 2
59:08 — A slight tease as Counsell worked a full count, but a lazy fly ball to center puts the series at two-naught. Enough of this silly game. Look for Live Blog 2 of 2 in about 20 minutes. 9:06 — Oh, this is absolutely going according to plan. Hart swings on the second pitch and flies out, putting Milwaukee's final hopes in the bendy arms of Craig Counsell. 9:05 — Hardy finishes his at-bat quickly. 9:05 — You know, if you pretend Joe Simpsons didn't say "Corey Hart on deck," and instead "Corey Hard-On deck," it's kind of funny! Oh, who am I kidding. Just finish the inning quickly. Bottom 8th 2
G/O Media may get a commission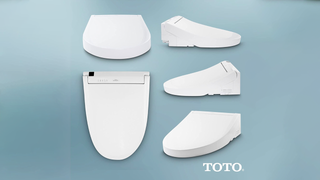 44% off
Toto Washlet Electronic Bidet Toilet Seat
59:02 — We're three outs away from freedom here, people. 8:58 — It appears I owe Jason Kendall somewhat of an apology. He's actually a good catcher now. Last year over 100 guys stole bases under his watch, but this year he's kept them much more honest, throwing out over 40 percent of the dudes. Jimmy Rollins is one of the 40 percenters. 8:54 — For formality's sake, we're going to finish the next two half-innings. Salomon Torres comes in to pitch. Top 8th 2
58:50 — And you thought this was going to be interesting. Fielder yanks the first pitch from Romero and the splintered bat travels just as far as the ground ball which Utley — forgetting Fielder as the runner — quickly scoops with the glove and shovels to first to end the inning. I'm ready for Cubs-Dodgers when you are, folks. 8:47 — Braun knocks one into left, and there's a dude on second base with two outs. Brian Anderson calls the Brewers "resilient," which might be a bit of a reach. JC Romero will replace Madson to pitch to the Herbivore Formerly Known As Prince. 8:45 — Raymond Q. Durham grounds back to Madson, but the double play wasn't close to being close, because Durham, after 53 years of MLB service, hasn't lost too much speed down the first base line. 8:44 — Cameron v6.0 pops up in foul territory, caught by two colliding Phillies fielders, who now share one jersey. 8:43 — Rickie Weeks makes it to first after Jimmy Rollins treats the ground ball like Flubber™. 8:40 — Ryan Madson is now the pitcher, and he's called the "Bridge to Lidge." I thought we stopped wasting taxpayers' dollars on bridges that go nowhere interesting. Bottom 7th 2
58:38 — Actually Gagné gets all three batters out. No wild pitches, no walks, and no HGH. Which means only one thing. Yovani Gallardo bought an Eric Gagné mask early for Halloween. 8:37 — Brett Myers is no more. He'll hand Wonderboy off to pinch hitter and noted immigration opponent Greg Dobbs. 8:34 — Hot damn. J.J. Hardy made a great play, almost implying that the Brewers haven't quit in this game. Almost. 8:32 — Eric Gagné's "I'm Not On Steroids" Farewell Tour continues with an appearance in this inning. Seventh Inning Stretch Halftime Entertainment Leave it to the Germans to not watch Ren & Stimpy. Click to view Top 7th 2
58:27 — Jason Kendall's not much about starting a second scoring rally in an inning, so he'll just poke the ball somewhere in the infield and take his out accordingly. But, wow! A manufactured run! Wasn't that breathtaking? 8:27 — My ... my God! Milwaukee didn't screw that up at all! Counsell's ground ball turns the game into a three-run deficit. 8:25 — Hart's fly ball to right just barely gets Hardy to move up to third. Now how do they blow it? I'm going with a squeeze play that ends in a pop-up. 8:23 — Who taught them that? J.J. Hardy begins the inning with a double. I'm pondering the possibilities how Milwaukee could ruin this inning. I'm thinking hit-and-run lineout double play. Bottom 6th 1
58:19 — Lo and behold, the Phillies pile in a few runners but don't score any more runs. I see no reason why we don't do this for three more innings. Hell, why mess with riveting baseball? (Translation: SOMEBODY FUCKING SCORE.) 8:17 — Six innings in and we finally got our first square of the night. And it's Grant Balfour's yelling at the batter after striking out Orlando Cabrera, which just might be my favorite moment of the playoffs so far. (Thanks for putting the best games during the day, MLB!) 8:12 — Shane Victorino honks a double to deep center. Careful, Phillies. You don't want to give the Brewers any ideas of what they might need to do to get back into this game. It's best to just go down quietly. Regardless, there's a dude on second and another one (Ryan Howard) on first who got the on-purpose walk. Top 6th 8:07 — Seven pitches, and Myers has already gone back into the dugout to cook some meatloaf for displaced Hurricane Ike victims. 8:05 — Five-plus innings in, and Brett Myers has as many hits as the Brewers. 8:03 — This is most likely a Michigan-only occurrence, but I just saw an Obama ad followed by a McCain ad. Back to back. Ugh. You know what? Whichever political ad I view closest to Election Day, I will vote for them. Bottom 5th 1
58:02 — Prince Fielder makes a nice little catch on a hard line drive. "That could make a huge difference." Yes, because it seems like Milwaukee's about to break out and score four runs at any minute, right? 7:59 — At this point, Brett Myers could trip over a homeless man and cure him of leprosy. After a couple of walks, Myers singles to load the bases. 7:53 — Seth McClung's now pitching. Boy, I'm glad he's got the hell out of Tampa Bay in order to have a chance to complete for a pennant! Top 5th 7:51 — In conclusion, absolutely nothing else of note happened this inning. 7:47 — Get this ... apparently Tony Gwynn, Jr. sounds just like Tony Gwynn, Sr. Could they be related somehow? Bottom 4th 1
57:41 — Stetter saves the day by — guess! — striking out Ryan Howard. Whee, they're only down four! 7:37 — One more walk ... and it's as if Sabathia just couldn't pitch on three days rest 86 jillion times in a row anymore. He can't escape the fourth inning, and Dale Sveum — who, to CC, looks like Brett Myers in a Brewers warmup jacket — takes the ball from him and sends in relief man Mitch Stetter. 7:33 — Shane Victorino won't get a grand slam this inning. Nuh-uh! Well, not only because the bases weren't full, but also because he just intentionally walks him. 7:31 — Everywhere CC looks, he sees Brett Myers. Brett Myers on first. Brett Myers on second. Brett Myers in his own dugout, sending signs. Brett Myers having sex with his wife, who also looks like Brett Myers. 7:30 — Rollins doubles down the left field line. The reason? You guessed it: Brett Myers. 7:27 — Myers flies out to right, but he still got a huge applause from the audience. This might rank second in history among Inexplicable Praise From Fans only to Dane Cook. 7:26 — There's just magic in the stratosphere when Myers is at the plate. He fouls off another pitch and a kid in the first row catches it with his hat. 7:25 — Remember Brett Myers's walk? Well, you won't be able not to when we mention it every other inning! 7:24 — Sabathia belly flops toward Ruiz's ground ball, then throws toward first and it somehow finds Prince Fielder's glove. One out. 7:23 — Is it sad that a fictitious office manager in a commercial knows how to send picture messages with a cell phone, which is more than I can say? Top 4th 1
57:20 — Meanwhile, the Brewers got two outs quickly, then Corey Hart gets baseballed in the back of his back. Someone from the booth just said, "you gotta get three outs," which was nice, because I thought two outs and one man hit also counted. Counsell bends his arms forward 360 degrees and rolls over a pitch to create the third out. 7:18 — Phillies hitting coach Milt Thompson describing that second inning. It appears he's never actually spoken to anyone in the media before. "It was the greatest at bats of the year ... and JRoll walked ... and Victorino got that hit ..." If they wanted stuttering and hesitation to describe that inning, I was available to give a recounting of what happened. 7:17 — Ah, another Frank TV ad, this time lampooning the fact that they run so many Frank TV ads. In that case, now I like them! 7:15 — Frank Caliendo's impression of Donald Trump might be more spot-on if it was audio only. Bottom 3rd 7:15 — No runs here. Pedro Feliz strikes out and Sabathia escapes the first trimester of the game with just over 70 pitches thrown. 7:14 — Feliz is living the American Dream. No, not playing postseason baseball. Hitting foul balls in the direction of the Phanatic, in hopes of injuring it. 7:11 — Now that CC has been getting batters out this inning, the analysts finally have case studies on why he's such a dominant pitcher. Until Jayson Werth hits ANOTHER double in almost the same spot on the field. If Feliz his another double down the left field line, Ruiz walks, and Brett Myers fouls off four more pitches, we might check to see of Sabathia's clock radio keeps playing "I Got You Babe." Top 3rd 7:04 — Ryan Braun hits one much closer to home than his first at bat. Carlos Ruiz chases it down and it looks like Milwaukee might not have any fight left in them. And it's only the third inning! This seems promising. 7:03 — Brian Anderson on Brett Myers: "When he gives it up, he gives it up early." Yet another thing Brett Myers has in common with my ex-girlfriend. 7:02 — Ray Durham totally missed that. 7:00 — Cameron Carbon Copy #4063 pops straight up to second. Stat That Looks Really Awesome And Telling If You Read More Into It Than What Is Actually There EARNED RUNS GIVEN UP BY CC SABATHIA Month of August: 6 Tonight: 5 Bottom 2nd 1
56:55 — Chase Utley can't follow that act, because there is no five-run home run. So instead he swings and misses, ending the inning. 6:53 — Shane Victorino makes Hawai'i proud (local time: 3:54 a.m. or something ridiculous) with a 2-out 2-strike grand slam, which is Sabathia's least favorite kind of Grand Slam. Let this be a lesson to you, young pitchers: never, ever, walk the opposing pitcher. 6:51 — Four straight balls zip by Jimmy Rollins. This is all punishment for Sabathia not straightening his goddamn hat in his entire career. 6:49 — Damn. Myers draws a nine-pitch walk. CC's up to 40 pitches through not-even-two innings. 6:47 — I've never seen a group of fans more pleased at Brett Myers fouling off Sabathia's pitches. 6:45 — Brett Myers is 4-of-58 for the season, "but one of his hits got him his only RBI," says announcer Brian Anderson, spoken as if it's unusual that base hits provide run production. 6:43 — The first one of you who says "You Gotta Feliz!" gets a fistful of smoke and groan. Pedro Feliz's double ties the game. 6:41 — Jayson Werth — neither of his names seem like they're spelled right — knocks a double to left-center. The ball never got behind Mike Cameron, so it was certainly a Bases Loaded-type extra base hit. 6:38 — David Aldridge reports on the shortage-of-African-American-players crisis in Major League Baseball, and how it's getting better. With a contrasting report, Jimmy Snyder reports that the situation is actually getting worse. Top 2nd 6:34 — Rumor has it Craig Counsell got the inspiration for his batting stance from Rubberboy. But sadly he strikes out, and Kendall plus Sabathia go down quietly. Bottom 1st 1
06:28 — Want to guess what Ryan Howard did? I'll give you hint. It was my trademark stat in Little League. End of inning. 6:26 — All Chase Utley really had to do was ground the ball, but he was having none of it. He instead ops to miss Sabathia's pitch entirely. Two out. Now it's time for Ryan Howard's at bat, and Milwaukee puts 12 fielders on the right hand side of the field. 6:24 — Victorino steals third. Naturally, Jason Kendall barely notices. 6:23 — Shane Victorino hits third base so hard with a line drive it left a mark. (His starting pitcher would be proud.) The ball trickles into foul territory, and Victorino gets himself two bases. In Rock 'n Jock baseball, that would probably be worth five runs. 6:21 — Proving baseball heavily involves luck, Jason Kendall is catching a postseason game. 6:21 — Too easy. CC Sabathia has "great mound presence." Top 1st 1
06:17 — Escaping any more damage, Myers convinces Corey Hart to ground into a double play. 6:16 — J.J. Hardy walks in a run. It might be kind of enhance the action if they make the player walk to first, push the batter on first to second, and so on. 6:15 — Screen graphic: Brett Myers has allowed 31 runs in first innings. That'll teach him to steal Jeremy Bonderman's underwear. 6:13 — Ray Durham walks, then Ryan Braun plusses Myers fastball for a double off the left field wall. That'll cause Myers to intentionally-plus-walk Prince Fielder to load the bases. 6:09 — I'm half convinced there are actually five Mike Cameron cyborgs in the game today. One such is leading off for the Brewers. He strikes out. More Pregame 6:07 — John Smoltz says Brett Myers has a "plus fastball." I've never heard of someone who had a minus fastball. 6:05 — Some cell phone commercial has her dad forbidding her daughter to call "Derek with a mustache" in the new cell phone plan. If that certain guy is Derrike Cope, then I don't blame him. That's just creepy.
Pre-Game Babble Ah, the baseball postseason. This was, if some of you recall, the time last year which began my live blogs on this here site. So let's celebrate this anniversary by risking suicide and live blogging back-to-back games. Anyways, let's talk about the Phillies-Brewers game specifically. Did you hear about Tampa Bay's win? Did you know Tampa Bay's in the playoffs? How about Tampa Bay! Tampa Tampa Tampa. It will be interesting to see if either Philly or Milwaukee plays Tampa Bay in the World Series. Speaking of what Floridians love all of a sudden, here's 25 squares with different phrases on them.
Note: This card will also carry over for the Cubs-Dodgers series. Marks on the cards will rollover to the late night game. Y'know, most families would kill for milky bingo cards.