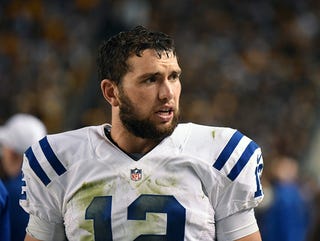 There's been a lot written lately about Andrew Luck being on pace to break the single-season passing-yards record. While Luck is having a solid year, to what degree can we attribute these gaudy statistics to his dominance? And how much do his numbers merely reflect the era in which he's playing?
Through nine games, Luck has thrown for 3,085 yards. This seems noteworthy since it's only the fifth time in NFL history a quarterback has thrown for more than 3,000 yards through nine games. And the others on that list went on to have four of the top five passing-yard seasons in NFL history. But all of these high-yardage seasons came since 2011. Passing yards per game keep increasing as defenders continue to face more restrictions—so we adjusted for this.
Using Pro Football Reference data, we selected the top five passing-yard producers each season since the merger, which gives us 225 individual seasons. We then compared these quarterbacks' passing yards per game to the NFL average passing yards per game for that season. This season Luck is throwing for 342.8 yards per game, which is 40.5 percent above the NFL average of 243.9.
When put this way, Luck isn't on pace to have the best season in NFL history. His current season ranks 23rd in outperforming the NFL average. The "best" season goes to Roman Gabriel in 1973 who threw for 63.2 percent more yards than the NFL average. Dan Fouts put together an impressive run in the late 1970s and early 1980s as he has four of the top 20 seasons on this list. Dan Marino has the highest ranked 16-game season, which if you're defining this sort of excellence as a sustained kind of burn, would make him the most impressive. Marino and Drew Brees each have two. No other player has multiple top 20 seasons.
Luck is a good quarterback playing in an era incredibly favorable to his position. But he's far from being the most dominant compared to his peers.
The clickable and sortable table below has all 225 individual seasons. The way to read the table is in 1984 Dan Marino threw for 54.3 percent more yards than the NFL average. Which ranks fourth all time.