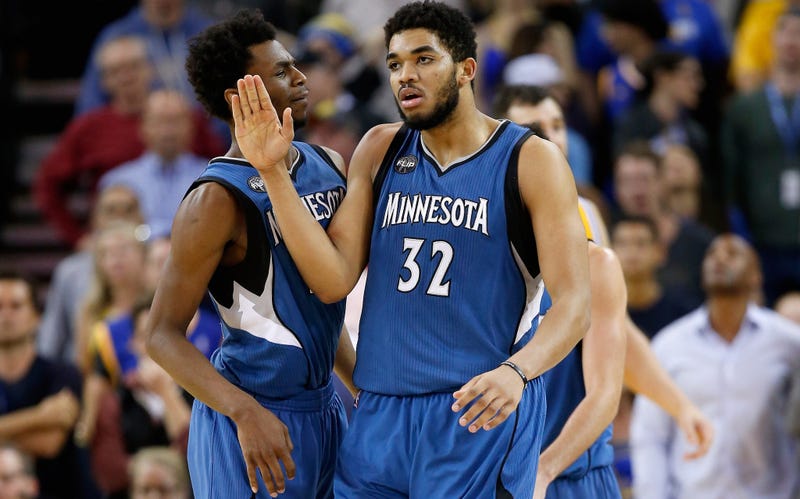 It would be an overreaction to last night's overtime victory over the Warriors to proclaim that it heralds the Timberwolves' arrival. It was just one game, after all, and the team is still just 26-52, the fifth-worst record in the NBA. It also remains to be seen how they deal with the organizational turmoil caused by the death of beloved GM and coach Flip Saunders—which thrust Milt Newton and Sam Mitchell into frontline roles they perhaps aren't suited for—and how selling a chunk of the team will change things. But my lord, how good were those young Timberwolf pups against the Warriors?
The most exciting young player in the league is Karl-Anthony Towns, whom we've written about a bit but not nearly enough. He's the consensus Rookie of the Year, but more than that, he's already a top-five NBA center and will likely be battling with Anthony Davis for the mantle of best center in the NBA for a decade to come. A few plays where he brutalized the 69-9 Warriors in overtime showcase just how damn good he already is.
On one play in the second half, Towns got switched onto Stephen Curry and was burned for a three. That's what Curry and the Warriors do. They force you to switch a big man onto Curry, and he does his rope-a-dope thing from 28 feet out, and you either give up an open three or watch him blow into the lane. But early in overtime, when it happened again, Towns was ready. He has a ridiculous amount of foot speed for a 7'0" dude, so he was able to get up in Curry's grill to take away the three, while also sticking with Curry as he went behind the back, and forced an awkward one-handed, off-balance shot.
With just over a minute left in overtime, Towns got the ball near the corner with the shot clock winding down. Andrew Bogut, a fantastic defensive center, was forced to come up on Towns because he is shooting a healthy 34 percent from three-point range. That range that bigs like Chris Bosh, LaMarcus Aldridge, and Blake Griffin had to build over several seasons? Towns already has it. And with Bogut crowding him, Towns just blew by him baseline and used his Go-Go-Gadget arms for an easy two points.
Finally, Towns brutally snuffed out any last chance the Warriors had to win the game. As Bogut went to trap Andrew Wiggins, Towns picked a nice spot on the floor for the outlet (and got a good pass from Wiggins). As Klay Thompson stepped up, Towns froze and got him into the air with a beautiful pass-fake to Zach LaVine. From there, there was no chance in hell that Curry or Harrison Barnes could stop him, and he even picked up the touch foul from Barnes.
It can't be repeated enough: Towns is just 20 years old. As Dan Diamond pointed out, that makes him younger than nine of the 10 starters in Monday night's NCAA Championship game. Of course, precocious basketball talent doesn't mean stardom is preordained. Towns just has to look towards the player he is most often compared to, Anthony Davis, to see that. Davis was supposed to lead the Pelicans to 50 wins this season and take a serious run at the Best Player Alive title. Instead, the Pelicans are garbage, and his season is over. (To be fair, Davis still had a good season, just not anything close to a transcendent one.)
Towns's partner in crime, Andrew Wiggins, isn't quite as developed. His jumper is still broken—though he's improved to 36.7 percent shooting away from the rim from last season's 33.5 percent— allowing defenders to sag off and play the drive. On defense he doesn't yet have the size to body up small forwards game after game, and often looks confused about where to be. Advanced statistics like Win Shares, Box Plus/Minus, and VORP are all down on him.
Offensively, the 21-year-old Wiggins is undeniably improving. He is shooting more from three-point land and at the rim than last season, driving his shooting percentages up. He is also getting to the line more frequently, approaching that elite James Harden territory. All of these improvements are coming with Wiggins shouldering an even heavier amount of the offensive load.
Against the Warriors he showed off his evolving offensive game. He shot a tidy 11-for-19, and got to the line nine times, for a very efficient 32 points. More importantly, he didn't fluke his way there by hitting shots he usually doesn't, but by playing to his strengths. Wiggins bowled to the hoop whenever possible, and shot his jumpers from the left side of the floor, from where he shoots much better.

And then, of course, there is that spin move. My lord, that spin move.
Here he is embarrassing a very good defender in Andre Iguodala to send the game into overtime:
And here he is devastating a very good defender in Draymond Green and forcing a foul:
Wiggins has long relied upon his spin move, and coach Sam Mitchell pointed out to Britt Robson that defenders were specifically keying upon it. Since his year at Kansas, fans and pundits have bundled that into a criticism, saying Wiggins was too reliant on his right hand, on his athleticism, on his spin move. It's not that these criticisms are wrong, but that their logic is backwards. The takeaway shouldn't be that the spin move is bad because opponents anticipate it, but that Wiggins already has an elite move that every other NBA player would love to have, and he'll be even more effective when he develops a quiver of countermoves.
He showed off one of those counters last night, notably backing down Shaun Livingston twice and rising above him for the jumper, the exact same thing Livingston himself loves to do to smaller defenders. If you've got to worry about Wiggins spinning by you and also turning over his shoulder for an open jumper, you're in trouble. Once his jumper improves a few more percentage points, and he adds five or 10 pounds of muscle, Wiggins is going to fit into an impossible-to-guard space, too big and strong for guards, too damn quick for small forwards.

While Wiggins isn't nearly as advanced on defense, it's important to note that the entire Timberwolves defense is garbage, and some of his flaws would be mitigated with any semblance of a coherent scheme. He's already quite good at shot-blocking, and should be good for one or two steals a game (he had an eye-popping six last night). He's also a good rebounder in traffic, and can use his elite athleticism to sky into the rafters to pull one down:
All this Towns and Wiggins talk, of course, leaves out the rest of the Timberpups. Like Zach LaVine, who didn't wow last night but put up a very solid 16 points, four rebounds, five assists, four steals, with just one turnover. The jury is still out on what his ultimate position will be, but even if he ends up at shooting guard, Mitchell has accelerated his development by playing LaVine at point guard so frequently these season, forcing him to develop better court vision.
In that interview with Robson earlier this season, Mitchell said some not-very-nice things about LaVine. But he wasn't putting down his young player à la Byron Scott. He was simply explaining the reality of the remedial work that LaVine needed to do. Things like understanding whether to throw a bounce pass or chest pass, or how to work the proper angles to make entry passes easier. As LaVine, 21, masters these basics and the game slows down for him, that should form a platform from which to unleash more of his unreal natural athleticism.
Rounding out the young future core is Tyus Jones (19) and Shabazz Muhammad (23), who scored 35!!! off the bench last night, and the not-as-young-as-you-might-think Gorgui Dieng (a hoary 26). Dieng is already a very credible backup center, Muhammad a solid wing option off the bench, and who knows what Jones might become? They'll also have a high lottery pick in the upcoming draft, and with their luck they'll probably move up and get the number one pick for the third consecutive season.
There are still too many open questions both organizationally and developmentally to establish what the Timberwolves can be in the future. But they have an emerging superstar in Towns, a still-raw player who has a couple of elite skills in Wiggins, and a mess of other youngsters who should settle somewhere between solid starter and useful role player. It took a heavy dose of lottery luck to get here, but the Timberwolves should also be credited for surrounding these players with extremely useful on-court (Ricky Rubio) and off-court (Kevin Garnett) veterans, allowing them to develop with a sturdy support structure rather than in a vacuum.
It's the ideal setup for long-term success, which still does not guarantee that's what will happen. But it's already a rare victory when the development is as much fun as the destination.