Does "Go for Jesus, not for gay Jesus, people!" sound like a plausible, idiomatic form of religious trolling to you, or does it maybe seem like the sort of infantilized structure that's easy to map onto a non-native speaker's syntax and pronunciation?
Yoel Romero, 38, won his sixth UFC fight last night, finishing Lyoto Machida in the third round, and then gave a subway prophet-type interview where he yelled at the U.S. for pissing on religion. He closed his short rant with, "Go, go back for your God. Go back for Jesus, no forget Jesus people." Some people heard, "Not for gay Jesus," which is kind of a stupid thing to hear because it would also be a stupid thing to say.
Something sneaky happens around non-native speakers. Childish syntax is often misconstrued as childish organization of thought, and not the product of struggling with a foreign language for the benefit of a foreign audience. So when a Cuban is misheard to say "not for gay Jesus," the first reaction, for some, isn't to square that against common sense. It should be! Taking a left turn toward gay Jesus at the end of a baseline religious pamphlet pitch does not make sense as a train of thought or argument. "Don't go back to religion for gay Jesus" does not make sense in translation or otherwise. Why would anyone assume that a 38-year-old Olympic silver medalist, a grown man who's been places, would include this in his 700 Club promo? To what end would you jump on that train, beyond getting a piece of the branded hashtag game?
Fox Sports, which aired Romero's third-round knockout on Fox Sports 1, wrote on Twitter: "Yoel Romero beats Lyoto Machida and then proceeds to scold the United States for believing that #LoveAlwaysWins." The tweet was later removed from the Fox Sports account.
Romero enlisted his translator after the fight to try to clean up the mess, and gave the rare sorry-if-you-were-offended apology that comes off just fine:
"I would like to apologize if there was a misunderstanding," Romero said. "First of all, I am a man of God. And God is love. My expressions are always going to be about love. What I was trying to say in the Octagon was, live for the American Dream.

"…I will tell you guys something: God made man to be free. Anybody can do whatever they want. I wouldn't be the type of person to critique anybody. I have to look at myself first, and be a better person, to love people. What I was trying to say was, to the United States, thank you, for giving me the American Dream. There is no better country, because it is blessed by God."

G/O Media may get a commission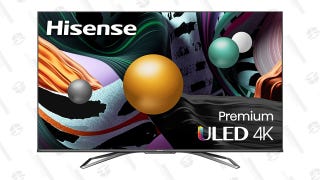 Save $350
Hisense ULED 65" Android 4K HDR Smart TV
I haven't done much digging on Romero's politics, beyond several old articles noting his Bible-humping, and, sure, it's possible the hardcore religious side of him shades his views about gay marriage. But he clearly wasn't doing anything here that different from another athlete Tebowing after a big play—he was, in other words, just making a big, performative show of his beliefs. Which, actually, isn't the worst description of Tolerant Twitter spiking the ethics in the cage fighter's face. Check out Pro Football Talk's Michael David Smith here for an example:
You know what scripture says about Tebowing.