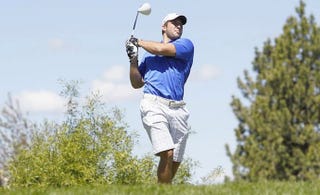 Mike Silver, formerly trolling for Yahoo Sports, now trolls for NFL.com. And the league understands just as well as anyone the value of putting the nation on Tebow Alert, even when there's absolutely nothing to it.
Silver, author of a controversial, cherry-picked oral history of Tebowmania, reports that the Rams "have at least internally discussed the possibility of signing Tim Tebow" after a knee injury to Sam Bradford. But this next part is kind of key: "It is highly unlikely they will actually sign him."
Stand down, America.
After Bradford, the Rams' only QB is Kellen Clemens. Presumably they drew up a list of free agent quarterbacks in case Bradford's injury is serious. But "Rams discuss signing Matt Leinart/Byron Leftwich/Trent Edwards, but probably won't" isn't a story that gets written. But Tebow? Damned straight. Look, even I'm writing about it! It's a vicious circle, one from which there's no escape.
In actual(?) Tebow news, someone hired a plan to fly a banner reading "Tebow Time?" above the Jaguars game today. Thanks to Alex for the photo.