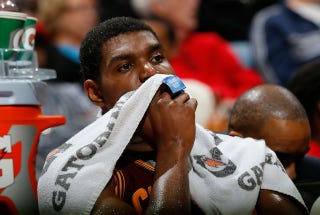 Want to know far has Andrew Bynum's star fallen? Look no further than this report from ESPN's Brian Windhorst and Ramona Shelburne, detailing a few trade rumours that Bynum's name has popped up in. Bynum for Pau Gasol! Bynum for Luol Deng! These seem like big-time trades, until you understand exactly why the Bulls and Lakers are interested in Bynum. They aren't looking to take a flyer on a once-dominant center who is still surprisingly young; they are looking to save a crapload of money.
Bynum's contract with the Cavaliers comes with a built-in escape hatch. If the Cavs, or any team that ends up trading for Bynum, decide that they don't want him on their team before a January 7 deadline, they can waive him without paying the second half of his $12.5 million contract. This essentially makes Bynum a super-expiring contract, a guy who can save team's money right now instead of forcing them to wait until the offseason:
By trading Gasol in a package for Bynum and then waiving Bynum, the injury-ravaged Lakers could save more than $20 million in salary and luxury taxes, which could help them maintain financial flexibility heading into the next few summers.
Bynum's vacated $6 million turns into $20 million because it gets the Lakers out of the looming repeater tax, a twist in the latest CBA that hits repeat luxury-tax payers with even stiffer penalties.
This all comes on the heels of Bynum's strange, unexplained dismissal from the Cavaliers, which started as a week-long suspension without pay and has given way to "paid leave." And nearly two months ago, Bynum gave an interview in which he admitted that he had recently considered retiring and was still "struggling mentally" to overcome his bum knees. Not even Andrew Bynum wants Andrew Bynum to play basketball.
[ESPN]