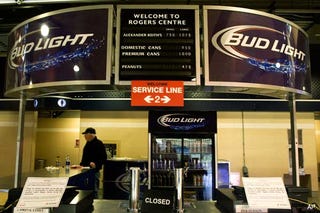 Well this is just sad. A Canadian sporting event without beer is just, well, it's sparsely attended, for starters. Poor hosers.
As we reported earlier, prohibition hit the Rogers Centre on Tuesday when the Alcohol and Gaming Commission of Ontario pulled their liquor license for the first of three dates this year. That meant Blue Jays fans had to sip from concealed flasks, hollow umbrella handles and Pilsner-filled baby bottles for the duration of the Blue Jays' 5-4 win over the Tigers. Something like this never really hits home until you see the photos.
Any Toronto fans out there who witnessed this sad occasion? Write us, so that we can tell the world your story.
Create-A-Caption: Dude, That's The Saddest Sports Picture Ever [Yahoo Sports]