It's a story almost perfectly crafted to drown in the current news stream. A group of North Carolina farmworkers—pickle and cucumber workers mainly comprised of H2-A workers from Mexico, to be specific—have been systematically attacked by the North Carolina General Assembly, which is attempting to stamp out the sole farmworkers union in the entire state.
Last week, the Farm Labor Organizing Committee sued the state of North Carolina, singling out Democratic governor Roy Cooper and Director of the North Carolina Administrative Office of Courts Marion Warren in their lawsuit, which can be read in full at the bottom of this post. The suit comes in response to the Farm Act of 2017, also known as Senate Bill 615, which Cooper signed into law in July. That bill outlawed the practice of employers removing union dues from farmworker's paychecks and put an end to all future unionization efforts tied to a legal dispute.
I know, I know. Pickle farmers, labor unions, North Carolina—there are sexier topics. That said, if you're at all interested in worker's rights, state legislative actions, or, say, learning how a state that prides itself on and promotes its (dwindling) humble farmers has allowed the small farms of the past to be completely overwhelmed by an industrial agricultural system dedicated to grinding its heel on the already-cheap labor that does the dirty work for them, then maybe stick around.
---
North Carolina is and has always been a tobacco state—sweet potatoes, cotton, wheat, and hogs have all left their mark, as have cucumbers and pickles. The state, in a real way, is rooted in packhouses and auction floors. That's not the case anymore, at least not for the majority of the remaining farmers.

G/O Media may get a commission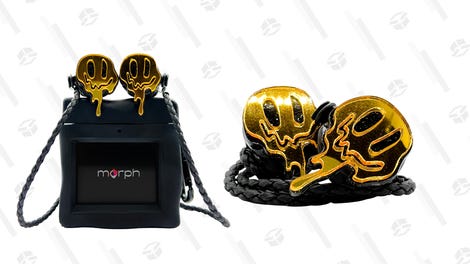 morph audio
Morph Earphones
The agricultural economy that allowed hard-working family farmers to send their kids—also referred to as cheap fieldhands—to school come the latter half of the 20th century is long gone. Over the course of a string of late-20th Century governorships held by moderate Democrats, North Carolina, the agriculture giant that had supplied half of the nation's tobacco production in the 1950s transformed itself into a pro-business, pro-banking state with economies to match. Charlotte is one of the biggest banking hubs in the nation outside New York, and there's a sprawling research hub in and around Raleigh.
These cities were built and renewed and renewed again by the state legislature and governors, who worked up tax cuts and anti-union laws for big-name companies; cities established with textile or tobacco money like Durham, Winston-Salem, and Greensboro pivoted to attracting corporations with their strong universities. There are plenty of success stories, there, of a very particular type. But the innumerable small towns speckled between the state's burgeoning metropolitan areas have struggled to find a place in the modern economy.
While projects like the privatized North Carolina Research Campus in Cabarrus County serve as proof that these rural communities and former factory towns are working toward a modern, education-based future, the state's college graduation trends continue to lag behind the national average. Towns like Salisbury deal with shootings on what used to be a peaceful main strip seemingly every weekend; towns like Fayetteville, Wilmington, Jacksonville, and Hickory all rank among the top 25 cities in the nation in terms of per capita opioid abusers. That's cherry-picking, of course; there is not only bad news to find, here. More of the state's citizens are seeking higher education and there's a decreasing unemployment rate a decade out from the financial crisis; there is the occasional factory or department store opening. But for the most part, the boom localized in North Carolina's cities hasn't done much for the state's poor and working families, or the towns they come from. Much of that has to do with those sitting under the dome in Raleigh.
The ruling members of the North Carolina General Assembly spend a great deal of time and energy boasting about their pride in the state's heritage and proclaiming their love for the domestic agriculture and textile industries. Their actions suggest something else entirely. Their campaign rhetoric contrasts unflatteringly with their repeated moves stripping away regulations and restrictions on how businesses can treat their labor. They don't stop making the promises, of course. But the distance between rhetoric and reality exposes how little North Carolina's politicians know or care about what's happened to the state's rural farming communities over the past half-century.
Neither the state nor federal governments have ever displayed much energy when it comes to regulating how North Carolina's large-scale farm owners treat family farm owners, land-renting workers, and farmworkers. When the New Deal and the Agricultural Adjustment Act of 1933 came along with subsidy payments and acreage allotments meant to drive up the price of crops after the Great Depression, black sharecroppers and tenant farmers were frequently left in the cold, with the large farm owners routinely denying the laborers their cut of the federal subsidies. While the Bankhead-Jones Farm Tenancy Act and the Farm Security Administration sought to right these issues, the onus was ultimately upon the largely white land owners to cut in the tenant and sharecroppers, which was something they weren't very interested in doing. Unsurprisingly, from 1930 to 1935, the white tenant farmer population jumped 13.5 percent while the black tenant population fell 15.5 percent
The AAA was eventually ruled unconstitutional by the Supreme Court in 1936, only to undergo some tweaking and be revived as the AAA of 1938. The federal subsidies and acreage allotments—these were later changed to poundage once scientists developed more efficient seeds and pesticides like MH-30—would remain in place for farmers until 2004, when George W. Bush and Congress signed off on the Fair and Equitable Tobacco Reform Act. The legislation replaced the tobacco companies' payments in the landmark lawsuits against them with a limited 10-year, $9.6-billion payment plan that concluded in 2014. This brought about consolidation, and the closure of thousands of small farms. That trend was furthered by crop insurance, which favored large farmers with the ability to take greater financial risks.
Add it up, and an economic model that had once paved the way to higher education and middle-class office jobs for those in the rural parts of the state was killed off. Or not quite that: it was just now reserved for the sons and daughters of farm owners that owned upwards of 100-plus acres of worked land.
---
North Carolina has long been one of the most antagonistic states regarding unions and workers. It has only gotten worse since the free-trade agreements of the 1990s.

During the industrialization that took place across the state during the first half of the 20th Century, union-busting was simply part of the job for the state's textile giants—the mills would routinely work with leaders of local organizations, such as churches (churches they often helped build and finance), to ensure that workers didn't organize. This was all done in hopes of keeping hourly wages at a comfortable, profitable level. When NAFTA arrived, a large swath of the textile factories slowly but surely took their business overseas. Others tried to turn to imported foreign labor and went belly-up, like Fieldcrest/Cannon Mills. The aforementioned North Carolina Research Campus is on that site today.
Even after their companies went bankrupt, laid off thousands at a time, and devastated entire communities like the one I grew up in, unionization in the state can still feel like a lost cause. Right To Work rhetoric has been pounded into citizens' minds for generations now; nearly every rural North Carolinian I've heard speak about unionization, even those will who would almost assuredly benefit from some form of collective bargaining, will still point to the undeniable benefits of individualism, adding they don't need any other corrupt institutions skimming off their paycheck. This helps fuel a cycle through which the state government, largely with the approval of their constituents, strips away at the state's lax labor laws in hopes of attracting large companies looking to establish factories in the state. Senate Bill 615 is just the latest example of this.
Crops depend a great deal more on geographical location than the looms of the textile mills do, which meant the increasingly consolidated farms in North Carolina had to figure out a workaround to avoid bankruptcy in a globalized marketplace. This is where the H2-A and migrant workers come in.
H2-A finds its roots in the Immigration and Nationality Act of 1952, though the official carve-out for agriculture workers wouldn't come until the Immigration Reform and Control Act of 1986. Simply put, H2-A is a federal initiative to supply domestic companies with cheap foreign labor, which is overwhelmingly made up of folks from Mexico. The stipulations in terms of required living conditions and payment for these laborers vary from one state to the next; if you have read this far, you'll be shocked to learn that the actual enforcement of North Carolina's regulations protecting workers who are only able to legally live in the United States when they have the job assigned to them has been found to be fairly lax.
The North Carolina Grower's Association is the nation's largest employer of H2-A laborers. As of 2016, the state ranked second only to Florida, and the North Carolina Growers Association ranked No. 1 among H2-A employers in the nation, taking in 7.3 percent of all approved workers in the nation, according to the United State Department of Labor. NCGA hooks up with foreign agencies that supply them the farmhands, and NCGA then receives a payment from the federal government for each foreign worker it places on a North Carolina farm. It is on the farmers to provide what the state deems adequate housing.
H2-A requires farm owners to prove, during an application process that requires review from three federal agencies, that they can't find any available domestic labor. This results in NCGA routinely dismissing the number of available American workers in the state's farming communities; maybe throw a raised eyebrow at any future "worker shortage" stories you read in the future. Because of how H2-A is set up, the foreign workers are not free to openly shop their skills in the shrinking marketplace of farms. Think of it as an attempt to flip the effects of NAFTA, which allowed for manufacturers to take their factories overseas where the cheap foreign labor is. The farming industry, which can't just pick up and leave, uses H2-A to bring that cheap foreign labor to them, with heavy restrictions in place regarding where and when these people could work.
A 2011 study of 43 farmworkers camps by the Wake Forest University School of Medicine found that "substandard housing conditions are common in migrant farmworker temporary labor camps." The study reported that while H2-A workers found themselves less likely to incur these conditions—such as the mold and mildew found in 63 percent of the camps—"women, children, indigenous language speakers, workers with fewer than 7 years of experience working in US agriculture, and workers without H2A visas [have] disproportionately high risk of being exposed to substandard conditions."
A Human Rights Watch report from 2000 found that NCGA specifically singled out workers that complained about their working conditions or wages. The outspoken H2-A workers—the majority of them single men from rural Mexican towns, where they would return after the growing season and hope to be recalled the next year—were placed on a blacklist and denied future work from the NCGA.
Human Rights Watch found widespread fear and evidence of blacklisting against workers who speak up about conditions, who seek assistance from Legal Services attorneys, or who become active in the Farm Labor Organizing Committee (FLOC)
The bureaucracy tends to drive off small farmers, who believe H2-A is layered with too many hoops to jump through and don't want to be saddled with the responsibility of having to provide (shitty) housing; likewise, the state's job services offices will actively work against placing North Carolina citizens in H2-A farming jobs because of the amount of paperwork that would have to be filed. This then allows groups like NCGA to point to labor shortages and make the case for an increase in H2-A visas, which, ultimately, means more money for in their pocket. Farms and pro-NCGA studies claim that farm owners will go bankrupt if they offered fair wages for the kind of manual labor required; they have no choice, you see.
Really, this system remains intact thanks to the simple fact that, legally, you cannot get away with pulling this shit, en masse, on American citizens as readily as you can on people who are not. The farms can do more or less what they please with foreign humans, documented or undocumented, whose lives and livelihood require they retain these positions. And so they do.
---
But you're here for the pickle union action, I get it. Well, here it is: After much of hand-wringing, North Carolina Grower's Association signed a union contract with FLOC in 2004 along with the Mount Olive Pickle Company, then the second-largest pickle company in the nation. Now it's No. 1.

The unionization—the first time in North Carolina history that farmhands ever established an official union—resulted from FLOC successfully leading a five-and-a-half year strike against Mount Olive following repeated instances of worker mistreatment. At the time of the unionization, FLOC represented 8,500 guest workers from Mexico; that number's now somewhere around 10,000, or roughly 10 percent of the state's 100,000 farmworkers.
This all came after nearly a decade of organizing by FLOC. The Toledo-based union had been working on this effort since the early 1990s, with heavy and sometimes physical resistance from the NCGA. (In 2014, a NCGA rep hauled off and punched a FLOC rep in the face after the FLOC rep attempted to first point out that he mispronounced a worker's name and then clarify that, actually, the NCGA hadn't done jack shit for any of its H2-A workers.) Since 2006, FLOC has been working on organizing R.J. Reynolds. The tobacco giant's domestic market dominance, paired with federal deregulation of the tobacco market, now allows for it to control tobacco leaf prices and thus, worker's wages.
Smartly, the NCGA placed members and friends in the state legislature to ensure no future unions or rabble-rousing lawyers could wreak further havoc their system. They would be there to shoot down pro-union laws and any future regulations the state attempted to place on one of its most vulnerable workforces. This brings us to a pair of state legislators—Jimmy Dixon and Brent Jackson.
Dixon is a member of the House representing District 4, which includes Duplin County and part of Onslow County. Dixon failed in his initial run as a Democrat, but has since found success after flipping to the Republican Party, where the majority of his votes have gone since he joined the General Assembly. Originally from Warsaw, N.C., Dixon is a farmer in Duplin County, where he owns and operates about 66 acres, per NCPW.
Jackson, a state senator representing Duplin County, Sampson County, and portions of Johnston County, is the vice chairman of the Senate's Agriculture, Environment, and Natural Resources Committee. He also owns Jackson Farming Co. in Sampson County. He was in the news in 2016 when FLOC started a petition that garnered 10,000 votes after Jackson was sued for cheating seven H2-A workers out of owed money. One even claimed he was fired on the spot by Jackson's son after the younger Jackson demanded he pay $2,400 for a broken gas pump piece—the man, an H2-A worker with no local connections, had to seek the help of a local storeowner to return to Mexico. Having left the NCGA in 2014 (the same year the Bush payments stopped), Jackson settled out of court and never admitted to being a shit employer. Jackson was a co-sponsor of Senate Bill 615.
That bill, also known as the Farm Act 2017, essentially kneecaps FLOC and any future agricultural unions, all in the name of preventing the "restraint of trade or commerce in the State of North Carolina." It nullifies all future attempts at awarding unionization to any workers or worker's groups that sue farm companies. SB 615 also prohibits any future union agreements that include the typical and common-sense stipulation of asking employers to withdraw union dues from their employees's paychecks—after its four-year agreement runs out, FLOC will be legally required to go to each of the near 700 farms its union members work at to collect the dues that allow it to continue operating.
To keep it short, SB 615 is a direct attack at FLOC and a chest-beating warning to any future organizers—the large-scale farmers, not the family farmers or laborers, are the ones in power, and they will not be afraid to wield that power to protect their profit margins. Of course, nobody will quite say that. Dixon, the only member of the General Assembly to speak on the House floor in favor of the bill, was recorded in the News & Observer as claiming SB 615 did not target FLOC—a statement that would seemingly run contrary to an interview he gave to the North Carolina Famer's Bureau in October, in which he claimed his goals for the upcoming 2018 legislative session would be to limit "outside groups who want to forcibly implement policies in an attempt to unionize some of our farming operations." Larry Wooten of the Farmer's Bureau released a statement supporting the law as well, saying farmers aren't supposed to be "treasurers for the union," per the Wichita Eagle.
"This law reduces an unnecessary administrative burden on farmers," Wooten said in release. "It allows them to get back to what they do best—growing our nation's food and fiber."
Being on the payroll of Big Farm Owners isn't anything new for Dixon; per Indy Week, he's taken $115,000 from the state's hog farm owners, and he rewarded them in May by sponsoring a bill that singled out lawsuits filed against hog farms and restricted the amount of money that could be allotted to citizens impacted by either the smell or runoff toxins. In an op-ed published by the News & Observer, Dixon claimed Wake Forest scientists, not him, were the ones telling half-truths. Here is a taste of the full-truths Dixon was spitting in that op-ed:
It says that if a farm is found to be a nuisance, a plaintiff can recover up to the total value of their property. The lawyers don't like that. They want to sue farmers for outrageous sums without having to prove real damages.
Dixon's voted against Medicaid expansion; he listed "Ronald Reagan, Harry Truman, and Jesse Helms" as his main political influences; he voted for drug testing for the state's Work First program meant to assist the state's poorest citizens via job placement; he voted in favor of limiting the amount of money the state would pay back to those affected by its disgraceful eugenics program—the one where the state would systematically sterilize women of color and women with mental health issues throughout the first half of the 20th century. All that and somehow found time to fucking co-sponsor HB2, the state's infamous "bathroom bill."
This is all to say Jimmy Dixon and Brent Jackson voting in favor of union busting and against the whims of the farmhands was not surprising. What was not expected, however much it should have been, was the signature of Roy Cooper on the bill they wrote.
Roy Cooper, the state's recently elected governor, is a Democrat. As such, he is supposedly of the party that should back people attempting to get something close to a fair shake through unionization. Of course, to make such a generalized statement would be to ignore the actions of every single Democratic governor in North Carolina's history. When Cooper signed SB 615 into law, it rung out as more of the same rather than the slap in the face it was. Cooper opposed the limit on hog farm lawsuit awards, yes, but that's because it was an easy political pseudo-victory; he knew damn well that the conservative legislature would nullify his protest—Republicans hold a super-majority in the General Assembly, meaning they can override his vetoes. He vetoed it anyways, understanding that it would play as a protection of rural citizens. The Republicans vetoed it, because they were always going to.
Remove the opportunity for political gain, remove the word "citizens," and Cooper's true colors shone through. This is something different than the fuck-up that was the Democratic Party's HB-2 repeal efforts. There the responsibility can be placed on bad political negotiating; Cooper's move to sign this bill was a purposeful action, meant to assist business interests that are already very well-represented in the General Assembly. Too often, these large-scale farmers are addressed as if they were the folksy, small farmers they pushed out, instead of the show-runners of a multi-billion dollar industry. In siding with them and against what they view as easily replaceable foreign labor, Cooper threw away a perfect opportunity to take a tough political stand. The NCGA has gifted him numerous opportunities to come off as the Reasonable Governor to Pat McCroy's Asshole Governor, but Cooper has insisted upon blowing one layup after another. He shrank from the moment, and now thousands of foreign workers and residents of the state of North Carolina will be worse off for it.
You can read the full lawsuit below.
Correction (4:15 p.m.): This post initially stated that Brent Jackson was the "main sponsor" of SB 615; in fact, he was a co-sponsor. The bill's primary sponsor was Republican state senator Andrew Brock, who actually represented my hometown.
If you're reading this far, I take it you'd be interested to learn that Brock retired two days after SB 615 passed, as he was named by the Republican-dominated Senate to a vacant position on the North Carolina Board of Review, which is part of the N.C. Department of Commerce and the Division of Employment Security. There, he'll hear unemployment benefit claim appeals. Brock was only ever appointed because Roy Cooper's admin failed to meet the May 1 deadline to fill the position—in a statement to the N&O, Cooper's spokesperson said, "We just missed it."