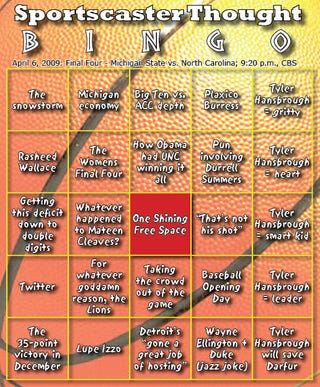 This one's for all the General Motors, laddies. Will it be the Tar Heels? Or the Tar Heels? Then again, the Tar Heels could pull it out. Time will tell.
Second Half
12:09 — [wipes tear from eye] There's just something about One Shining Moment that draws all the remaining cynicism from my lower intestine and converts it into dreams and rainbows for babies with AIDS. Despite the horrible game, I am at peace. No worries, though. I will continue to seek out petty annoyances, build them up internally, and let them flush out in the form of Deadspin's next live blog. Until then, comrades, please tell Sandy I said "WHEEEEEEEEEE!"
12:05 — Awkwardest music transition in sports broadcasting history: peppy basketball band music to Masters coverage piano melody. And now ... SHINE ON.
12:00 — IT'S MIDNIGHT AND I DON'T HAVE A SHINY SHINY MONTAGE YET.
11:58 — I'll give North Carolina this. With all those walrus-vomit-colored championship t-shirts that have come out over the years, it was nice of them to simplify with a blue "1" and an NC shield-looking thing.
11:51 — Oh, you think I'm done, bitches? We still have a fuckin' tear-jerking montage to sit through!
11:50 — Gleh. The important thing is that unemployment has ABSOLUTELY NO CORRELATION to basketball. (Exception: Billy Gillispie)
11:48 — I think I just saw Hansbrough's Elated Face. I will now be flaccid for the next 72 hours.
11:46 — GO CRAZY, SANDY! GO CRAZY!
72
89
11:45 — UNC calls a timeout to sub in the "fan favorites" for the "actual fan favorites, you know, the ones that scored all the points this season."
11:43 — I don't know what I did to deserve the presence of Idong Ibok on the court, but there he is.
11:37 — No, Jim Nantz, this was not their chance to revitalize the Michiganian economy. Have you seen Raymar Morgan's plan to create new jobs? "Just have everyone put on a mask like mine?" How is that a viable solution?
11:35 — The camera pans to the UNC bench. Look at them. Ha! Know what they all have in common? That's right, they're all ... immune to sickle cell anemia.
11:33 — It's not that people are outraged over spending 50 cents without getting a bun. It's that, without bread, people can actually taste how terrible a hot dog really is.
11:31 — I think Mr. Kellogg said something about Michigan State having to cut the lead to 10 points by this time. It's now 15 with the Heelies possessing the ball. Goodnight, Mid-Michigan!
65
80
11:28 — I will say this. MSU has not relented in drawing contact and shooting free throws. That's what's kept this game from being, well, over. If it was over, I'd be asleep by now. This is the cross Big Ten basketball has to bear.
11:24 — Stay tuned for an all new NCIS in which, just like this game, they nail the criminal 10 minutes in and then you get to watch 50 minutes of lawyers doing paperwork.
11:21 — And Gutsbrough moves up the all-time NCAA tournament career scoring list. Not sure where they keep that list. Probably in a safe place.
11:21 — Suton's elbows. Baby pandas eating your babies. DO NOT PROSECUTE THEM.
11:19 — With seven-and-a-half minutes left, I see no better time to start automatically fouling. That way foulouts will force Idong into the game.
11:16 — Look, a Vince Carter sighting! Wave to him, Canada!
11:13 — Oh, the quietly developing battle, beyond American Cars v. Foreign Cars and Apple vs. PC is Every Freaking Investing Company vs. Every Other One. Too bad TD Ameritrade got first pick in the playground draft. Sam Waterston just sweats integrity. He makes me want to talk to Chuck, but only to say "Up yours, carpetbagger!"
53
72
11:11 — "Maybe if they can make a couple of threes..." A gaudy qualifier, Clark Kellogg.
11:10 — It's free throws the rest of the way for MSU. That is the other bright spot. Just like the sunroof in the new Ford Focus. Ford: They're Cars™.
11:08 — Boy, the Spartan faithful sure remain vibrant in this game. Though, in all fairness, there is nowhere else to go that doesn't end in a good ol' shivving.
11:05 — Goran Suton's elbows are apparently considered federally protected baby pandas.
11:00 — As we go to break, perhaps Sparty can hem the shorts of all the UNC players in the huddle, resulting in 12 technical fouls and 24 free throws.
46
65
11:00 — Oh, never mind.
10:59 — THEY'VE CUT IT TO 16! HELEN WOULD LIKE A RASPBERRY DAIQUIRI!
10:56 — Eyelids. That's the problem. Tyler Hansbrough lacks eyelids! Will any lovelorn and/or goth girls donate theirs for a transplant?
10:53 — This seems like as good a time as any to put in Idong Ibok. I have some jokes in my Bindle of Wit ripe and ready for it.
10:51 — If you're just joining us, it's a VERY CLOSE GAME AND YOU SHOULD STAY PUT. Any scores you see on the TV and/or Internet are merely typographical errors and will be fixed at the end of the game.
41
61
10:50 — Oh, c'mon. Lawson bogarts his eighth pass in wild, unpredictable fashion. Well, nine, if you count Sandy's heart.
10:46 — So here's a fun* experiment. Try and guess at what point in time UNC will have scored as many points as State will the entire game. I'm saying "12:14" and "66" points.
* - Okay, YOU think of something better to do. Wait, no, DON'T LEAVE ME.
10:45 — And we're back to game action, however that's defined today.
10:41 — Wouldn't hurt just to have Bird and Magic play one-on-one for 20 minutes. Wait, who am I kidding? I'll just play Magic Johnson's Fast Break.
What To Look For In The Second Half
Will Sandy find true love? Will Helen get her feet rubbed? And featuring special guest star, Dr. Joyce Brothers.
Halftime
Now's the time to potty, smoke, stretch, scratch, and measure the distance between East Lansing and your place of residence, so as to calculate how long you have until the blaze reaches you and everything you live. Then enjoy our halftime edu-tainment.
First Half
34


55
10:21 — A quick game of NCAA Indoor Tennis breaks out, and ... that's the half. As much as I love the company ... holy shit, save yourselves. I'll letcha know if this bastard becomes interesting. I mean ... KEEP WATCHING HIT F5
10:20 — It's a three on zero! And ... oh, nobody picks up Ellsworth. SANDY NEEDS A LOZENGE!
10:16 — The State defense forces a timeout as Ty Lawson falls victim to the "Moe Howard" stance.
10:14 — The Mentalist is on Tuesday night, it seems. See, if you read Deadspin comments, this is new information for you.
10:14 — Well, look at this. A coupla stops in a row, and the lead's down to 18.
10:12 — Y'know, maybe Michigan State needs their own loud cheering lady. Perhaps that's what'll spur a comeback. We'll give them "Helen." You can't hear her, but just pretend.
10:09 — And with that timeout, here's to seeing if we can get the font right this time.
25


48
10:07 — SANDY CANNOT CONTAIN HERSELF! (Seriously. It's like they don't know she's there.)
10:05 — A pass slips through MSU's fingers. So much for the Canola Oil timeout gambit.
10:04 — Re: big font. Look, occasionally I'm just trying to cater to Deadspin often-overlooked nonagenarian demographic.
10:02 — Oh, sure, the ONE TIME Sandy is mum.
10:00 — Just the kind of news Lansing needed! Raymar Morgan, the one with the mask, goes down for the count. Clap hard, Lansing! Clap as hard as you can to bring him back to life!
18


38
9:56 — I can't help but think that all these offensive rebounds are the difference in this game. As opposed to all those offensive rebounds my college girlfriend slept with.
9:54 — A goaltending call on Heartsbrough, keeping the lead at a svelte 20 points, pushes the momentum in the Spartans favor, the way that Wile E. Coyote's umbrella pushed away those boulders.
9:53 — Gak. 23-point lead. 29 minutes left. How about I switch over to the A's-Angels game at halftime?
9:49 — Sure was nice of Radford to fill in for those first 10 minutes while Michigan State ran out and satisfied their Qdoba jones. Now, how about a good game here? Sandy's seat is becoming moister by the minute.
9:47 — [Fixes font. You saw nothing.]
11


24
9:42 — Phew. After all that flotsamming and jetsomming, the Heels still retain a double-digit lead over the Honda lawnmower.
9:40 — Chris Allen will now try those "free throws" all the kids are doing. His major: Computer Engineering. NERD! He makes 1 of 2. score++; //never forget the semicolon
9:39 — Danny Green picked up back-to-back fouls, which is the silver lining in Michigan State's game. Just like the new silver trim on the sporty new Chevy Silverado. American Cars for American-Looking Folks™.
9:38 — The lead is already 15 points. Probably wasn't a wise move to start Zach Miner for this game.
9:36 — This is unreal. After a UNC basket, Ty Lawson rapes and/or pillages the inbounds pass, and eventually the possession leads to more points. Sandy approves.
9:34 — That screaming lady catching the telecast microphone? For simplicity's sake, I'm going to call her Sandy.
9:32 — Meanwhile, GM takes the lead with the "rally cap" hat commercial. Remember, wear your hats inside out and not backwards, because that's what Detroit gangs are prone to do.
7


17
9:31 — State's rushing their shots, but the Heels are rushing them better, it seems. It's getting uglier than a Hansbrough O-face.
9:29 — It wouldn't hurt CBS at all if they lowered the volume of everything else but the announcers and that screaming woman in the 14th row.
9:28 — Fouling Tyler Hansbrough carries a $25 fine in Chapel Hill. UNC's props their lead up to five points.
9:26 — 3-point tradesies. "Dibs," "not it" and "back cuts" are still up for grabs. 5-3 Heels.
9:25 — And the Heels break the scoreboard cherry 14 seconds in. Not sure if that's legal in Michigan.
9:24 — And there's the tip ... oh, jump ball. Still tied, then.
Telecast
9:18 — OH NO TWITTER IS DOWN WHO DO MY FAVORITE CELEBRITIES HAVE WINNING THIS GAME?
9:14 — Please don't mention "destiny" as a factor in the game. Makes it sound so ... final. Why even try boxing out?

Pre-Game Babble
They just had to schedule this the same night as Opening Day, didn't they? Judging by the Tigers-Jays score, maybe that was a wise move.
Anyways, let's get right down to the action. Here's the analysis you won't get anywhere else. Everyone thinks Chevrolet is going to walk away with the victory tonight, but I don't know. Those Ford guys are really scrappy. Especially their used cars. Yes, everyone is going to point to the rout last December in car sales, but it's a very different ballgame today. It will be closer than this double-digit profit margin everyone's talking about, but I still think Chevrolet, with the combination of Howie Long and that terribly irritating little red-headed girl, will pull out the victory tonight.
I'm live blogging a two-hour car commercial, right? I mean, I assumed that's why it's in Detroit. And for what it's worth, I had my bracket all wrong. I had Chrysler, Honda, Saturn, and Rickshaw, Inc. as my Cinderella team.
By the way, in my haphazard Mateen Cleaves research, I discovered that he's still trying, God bless him. Tell Khalid El-Amin he still has my Vertical Horizon poster.