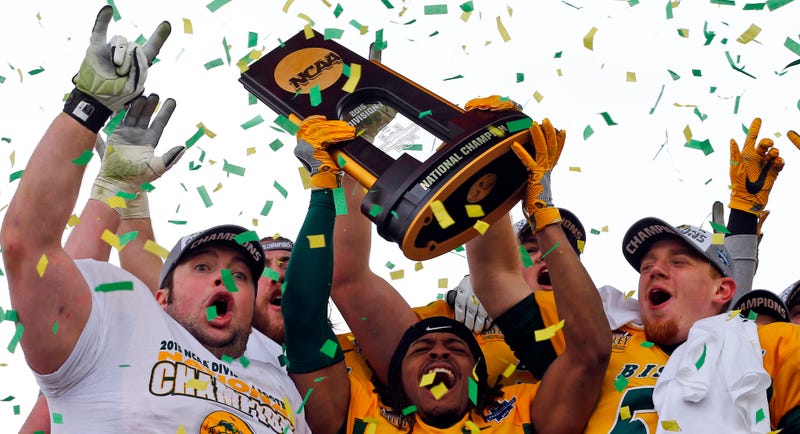 The North Dakota State Bisons put a royal whooping on the Jacksonville State State Gamecocks to win their record fifth consecutive FCS national championship. They dominated the game, with over 40 minutes of possession and almost twice as many total yards.
Probable future NFL QB Carson Wentz didn't have his best game, but he didn't need to, as the entire NDSU team overwhelmed Jacksonville State. The Bison defense held JSU quarterback Eli Jenkins to 7/20 for 57 yards and a pair of picks. Wentz threw for a touchdown and rushed for two more.
This decade, NDSU has been about as dominant as any football team can be; they've had as many losses as national championships over the past five years; and went undefeated one season; the Bison ripped off a 33-game win streak over the course of three seasons; there are seven NDSU players in the NFL; the team hasn't lost to an FBS team in five years, with wins over Big 12 and Big 10 teams, and they're lining up games against Oregon and Iowa soon.
So, would they beat Alabama? Yes, they would.
Update: Whoops, I crossed my wires and said Adam Vinatieri went to NDSU. He went to South Dakota State.
Photo via AP