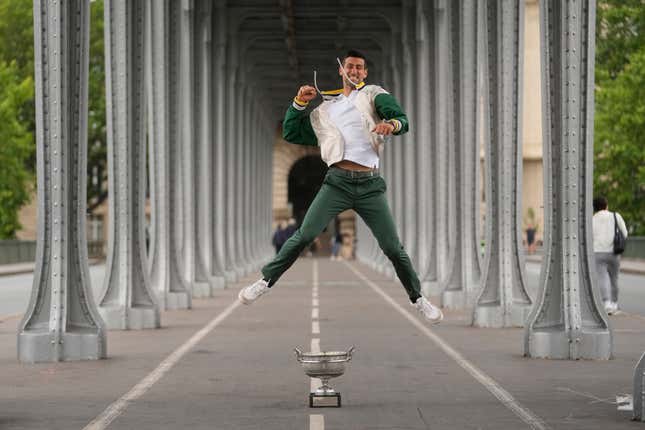 Eras don't end on schedules. There wasn't an assigned time when Roger Federer or Rafael Nadal exited the royal hall of the ATP Tour, it was just sort of a nebulous "time." Federer's knee eventually gave out, it might be that Nadal's hip has done so as well. It would appear that Novak Djokovic is not ready for that "time" yet. Even if "time" was ready for him, he'd simply put it through yet another punishing rally before pumping a forehand past it.
Being a Tennis Gladiator like Roger Federer | Bear Grylls' Ultimate Sports Fantasy
Djokovic won his 23rd grand slam Sunday at Roland Garros, and his third French Open. He did so after tonking Casper Ruud, which came after outlasting Carlos Alcaraz in the semifinal. Both were seen as the primed next two on the tour, with Alcaraz having already won a major at the US Open last year, and Ruud appearing in his third Grand Slam final. It was also his second straight in Paris.
But neither had enough. Alcaraz and Djokovic played a scintillating two sets of tennis that they split, both reaching a level of shot-making reserved for celestial beings, or something Homer would have sung about. But tennis, especially at the Grand Slam level, isn't just about the shots you can hit. It's about getting through seven matches with your legs and lungs still functioning. A 20-year-old Alcaraz still isn't quite there physically, as he cramped up early in the third set, his body pulling the rip cord on his effort to take down the last of the Big 3 standing in his way to his dominance. It's a pain that Djokovic would have known well, given the fitness problems he had early in his career before getting to the heart of them, and turning into arguably the fittest athlete in the world.
Alcaraz may wonder what would have been, and what will be when he's ready to get through an entire French Open. Ruud may do the same. He broke Djokovic early, and even after Djokovic evened the set it looked like the latter was the one giving in physically. Djokovic was taking forever between points, clearly breathing hard, and saving up every second he could (and some he couldn't if a serve clock was being enforced at all) to get through the next point.
And yet Ruud couldn't break through, now 0-for-11 in sets against Nole. He gifted away his service game to lose his break advantage and then blew three other break chances before Djokovic got him into the tiebreak, which for him is essentially dragging an opponent under the surface.
You know what it looks like from there. The stat tracker might as well turn the "unforced errors" category for Djokovic off. He'll make his opponents hit three winning shots to win one point while all his groundstrokes land whispering distance to the baseline. Eventually, in most points, and overall, the opponent gives. Ruud, like pretty much everyone else Djoker sees at a major, could only play red-line tennis for so long before the engine overheated and one either pulls back, or simply falls apart. Both mean victory for Novak.
And now he sits atop history with #23. Once again talk of the calendar slam will dominate the men's tour, as he hasn't lost at Wimbledon in six years and hasn't been truly beaten in seven (he retired against Thomas Berdych in 2017 with elbow problems, and Sam Querrey beat him the year before). That will put us back where we were in 2021, when Djokovic got to one match away from collecting all four majors.
There's no Nadal in the way. There's no Federer. He just went through the two most likely challengers from the new generation to halt him, and he did that on what he says is his worst surface. If the only argument Michael Jordan stans need is the amount of rings, than the number 23 will do for Djokovic, and his fans. And it seems he's hellbent on proving in on the court, even now at 36, that there was no one as good.
-Anyway, play of the weekend time. If you're going to lose and if you're the Chicago Fire you clearly plan on losing a lot based on recent history, you might as well do it like this to Columbus's Lucas Zelarayan:

The true highlight is when Chicago keeper Spencer Richey, when he clearly realizes he's totally boned, just throws his hands above his head to at least appear he did everything he could. The angle from behind his better, as it shows the ball is already behind him by a good 10 yards.

(about 50 seconds into that one)
It will go down as a goalkeeping error, but it really isn't. Richey is where he's supposed to be. His midfield isn't supposed to turn the ball over so easily and then not pressure the ball at all to give Zelarayan all the time in the world to line it up. No matter though, Richey is still going to end up looking the nincompoop.
Anything worth doing is worthy doing well, even if it's losing.
Follow Sam on Twitter @Felsgate.